Digital Transformation is not just building digital infrastructure: it is the process by which companies embed technologies across their businesses to drive fundamental change. The benefits? Increased efficiency, greater business agility, and, ultimately, the unlocking of new value for employees, customers, and shareholders.
The business mandates behind the term–to rethink old operating models, to deliver rich digital experiences, to experiment more, to become more agile in your ability to respond to customers and rivals–aren't going anywhere. For many companies, Digital Transformation is a matter of survival.
But many Digital Transformations fail. Various studies from academics, consultants, and analysts indicate that the rate of Digital Transformation journeys failing to meet their original objectives ranges from 70% to 95%, with an average at 87.5%.
One of the most under-recognized reasons that Digital Transformation journeys fail is too big, too fast. Digital Transformation has a learning curve, and it is highly advisable to learn to walk before you run.
To ensure success in your journey, a 3-phase purposeful approach to Digital Transformation that can help you to start building muscles and modernizing your digital infrastructure in the right way. Digital Experience Platforms (DXP) play a key role in this approach that can save a tremendous amount of time and effort when implemented right. Here's an overview of how this strategy works.
Base22's 3-phase approach to Digital Transformation & Digital Infrastructure Building
1. Building a Base Via Modernization
Modernization builds the base. It is wise to start with modernization efforts that don't transform the business but rather create the capacity and knowledge to succeed with more ambitious and complex projects later.
Modernization efforts begin the creation of digital infrastructure by offering modern user experiences that provide customer-friendly user journeys and simplified and digitized processes and functions.
Many companies have experienced "grassroots" Digital Transformation where business functions like HR and Sales have acquired SaaS solutions (such as Workday and Salesforce, respectively) to modernize and transform user experiences and processes. Without a holistic modernization strategy, the result is that users are now faced with disjointed user experiences presented by the mix of legacy systems and SaaS solutions.
Digital infrastructure modernization can be significantly accelerated by using a Digital Experience Platform (DXP) to deliver personalized user journeys and manage access to existing enterprise systems. A DXP can leverage existing enterprise and SaaS systems without requiring major modifications to those systems.
DXPs are powerful software because they can be tailored to your company's needs and become the core of your business model, no matter its complexity. For customers, a Digital Experience Platform can provide self-service touchpoints. For employees, it can be about automating processes and systems access or providing an efficient self-service portal. For operations, it can mean creating supplier portals that provide visibility into demand planning, logistics, and release schedules.
The Modernization stage will make the organization digitally stronger and lay the foundation for more complex digital projects, and provide immediate gains to help fund future investments. Modernization is the tip of the spear.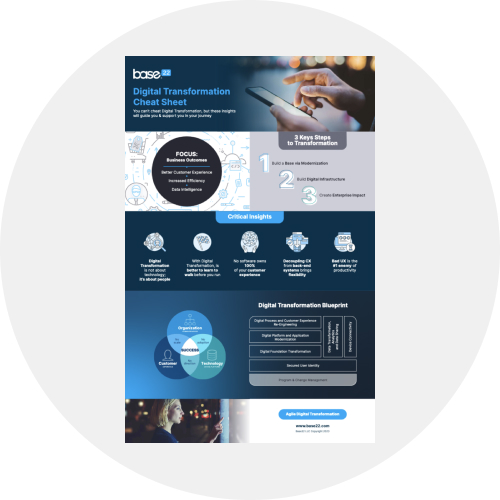 Digital Transformation Cheat Sheet
Dive into our Digital Transformation insights and learnings—all in one page.
Free Download
2. Building Digital Infrastructure
Once modernization has taken hold and the building of the digital delivery system is reasonably mature, the next phase of building the digital infrastructure can begin. This phase involves building the critical digital technology muscles for enterprise-wide transformation: first, building Cloud infrastructures and then moving applications into the Cloud, starting with containerized approaches. Cloud movement is extended by the use of API gateways, creating microservices, and leveraging serverless computing technologies to support the foundation for application modernization and the zero-trust model.
The goal of this phase, combined with the capabilities developed in modernization using the DXP, provides an agile digital infrastructure responsive to the changes to come.This step is key not only for providing the technology capabilities of a Digital-First organization, but setting the ground for scalability and growth.
A critical supporting piece to leveraging modernization and rethinking operating models is the creation of flexible data architectures and Knowledge Graphs of enterprise data to support new user experiences and process improvements. In other words, making the most out of the information and data your company has already generated for many years, and bringing it to the surface in a smart, precise way to improve decision-making processes.
3. Creating Enterprise-wide Impact
With the above digital infrastructure in place, true enterprise-wide transformation can begin. This phase will vary by industry and related business drivers but is usually focused on improving existing operations.
These enterprise-wide transformations are cross-functional and involve rethinking operational models, aligning traditional organizational silos, and establishing proper governance models.Typical projects involve creating new revenue models by leveraging IOT data or establishing digital selling channels, optimizing operations by capturing data from smart devices, and capturing customer demand signals to improve supplier visibility and responsiveness.
Most importantly: this phase is not only about technology—it's about people. It means exploring the potential of your company or organization with a new modern digital infrastructure and how it can help you to become Digital-First.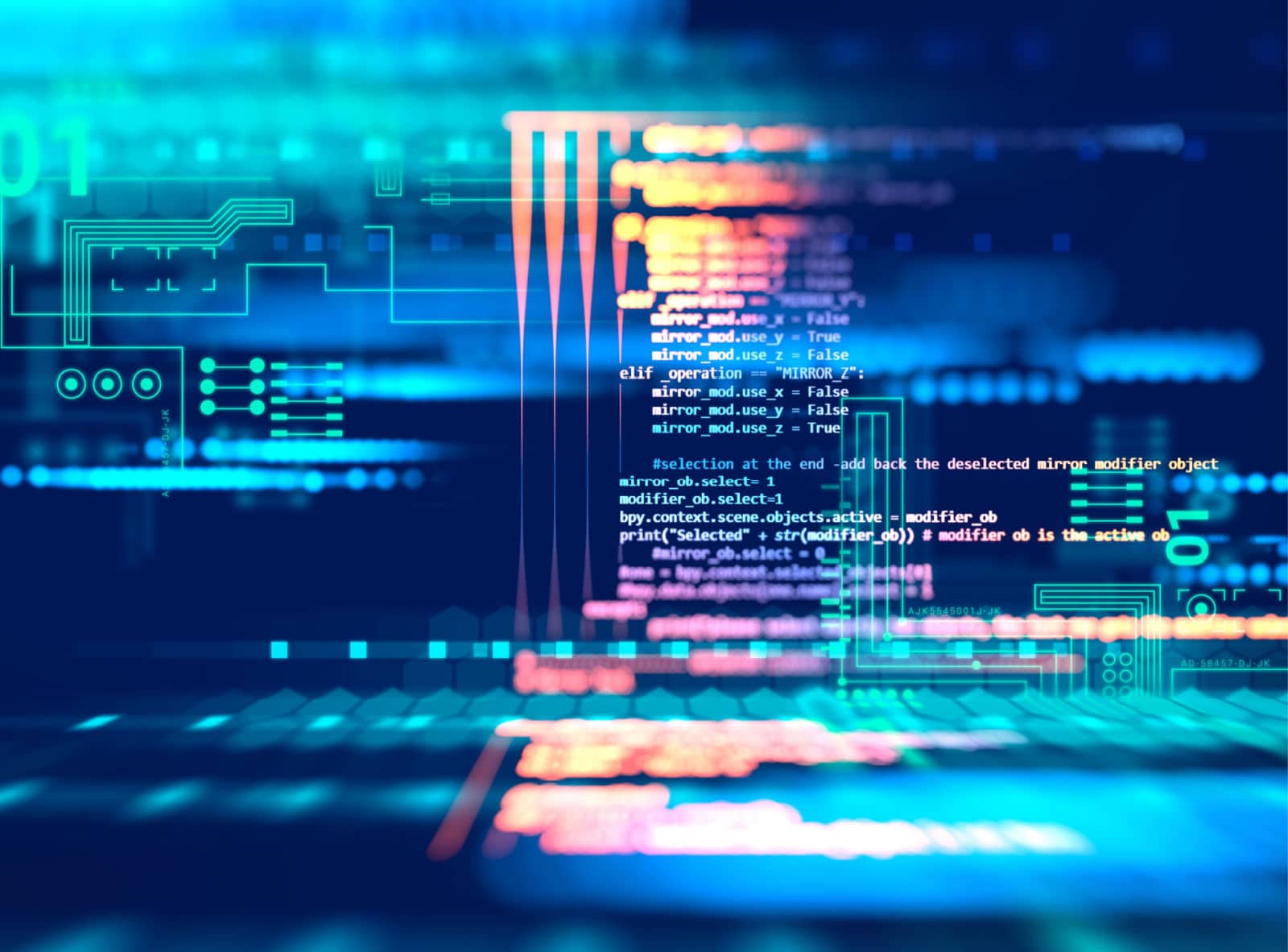 Building digital infrastructure is a marathon, not a sprint
Do these Digital Transformation steps occur in a linear fashion? Likely not, in the sense that many organizations will conduct a portfolio of initiatives that may cover all three areas. For example, they may undertake modernization to deliver quick wins and reduce costs while at the same time beginning moving applications to the Cloud, examining Cloud-based technologies for application modernization, and starting pilot programs for operating model changes leveraging the benefits of modernization efforts for process changes.
Building digital muscles starting with a modernization phase using a Digital Experience Platform can result in relatively quick benefits, including better customer relationships and additional revenue, more productive employees serving customers, and more efficient supply chain operations. Implementing our 3-phase approach to Digital Transformation ensures a successful journey and gives your company agility at critical moments.
Finding the right digital infrastructure approach and road for modernization is key for technology roadmaps. Are you taking an agile approach to building digital muscles and modernizing your digital infrastructure before jumping into Digital Transformation? If you are facing a specific challenge related to your digital infrastructure and systems or you need an experienced partner to guide you and help you implement a strategy for your journey, reach out to us. Let's start building your future today.
Digital Infrastructure & Integration Planning
We are an experienced digital firm that can guide you and support you in digital infrastructure planning, integration systems projects, and technology roadmaps.
Learn more