The adoption of Digital Experience Platforms (DXP) is booming, but companies may see mixed results, especially if they aren't implementing their platform as a business enabler.
Many leaders aren't making the most of their DXPs simply because their implementation may be molding the business to fit a solution rather than utilizing its functionalities to take the organization to the next level.
The reason companies are not getting there lies in the competing approaches to the implementation of this type of software. Are they trying to use a DXP as a technical solution or as the foundation to enable digital business?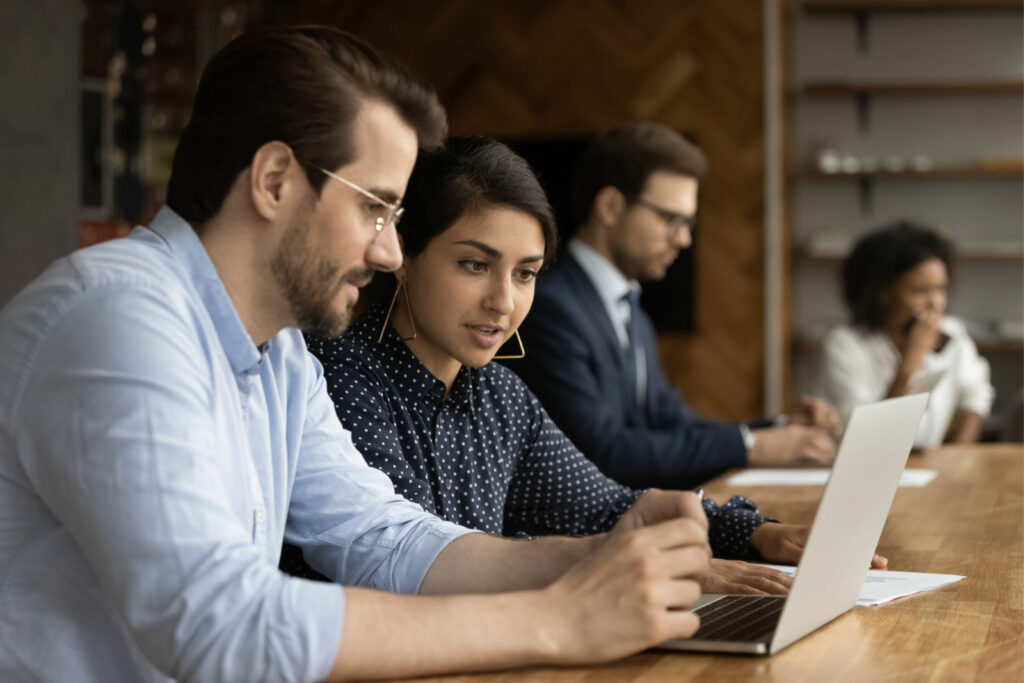 The Challenge With DXP Solutions
DXPs are a modern, richer extension of the content management systems (CMS) and web content management (WCM) systems companies used in the past. While there's some overlap between CMSs and WCMs, DXPs go beyond basic content management capabilities, providing a full suite of tools to manage content and assets across multiple digital touchpoints at scale. They focus on digital experiences, not just content: meaning they can provide different look-and-feels, they can leverage different digital channels, and they can drive different groups of users to achieve unique goals.
For large organizations, DXP are great integrators that can orchestrate their "legacy" systems and ERPs, and create a unified, easy-to-use digital workplace. Often Digital Transformation leaders decide to add a leading DXP solution to their digital ecosystem with the expectation that it will be an interoperable platform and will integrate seamlessly. 
However, if not implemented right, results might be underwhelming—a negative outcome that can be attributed to DXP vendors and technology firms that don't understand how to use or leverage this software to the full extent of its capabilities. 
Organizations find themselves rather frustrated due to extensive IT dependency to create updates, lack of automated workflows, inconsistent experience across multiple channels, and cumbersome use of the platform.
What companies genuinely want is an easily maintainable platform that provides a stable foundation and can grow with the business. But to achieve this, we must understand the main differences between the two approaches to DXP implementation.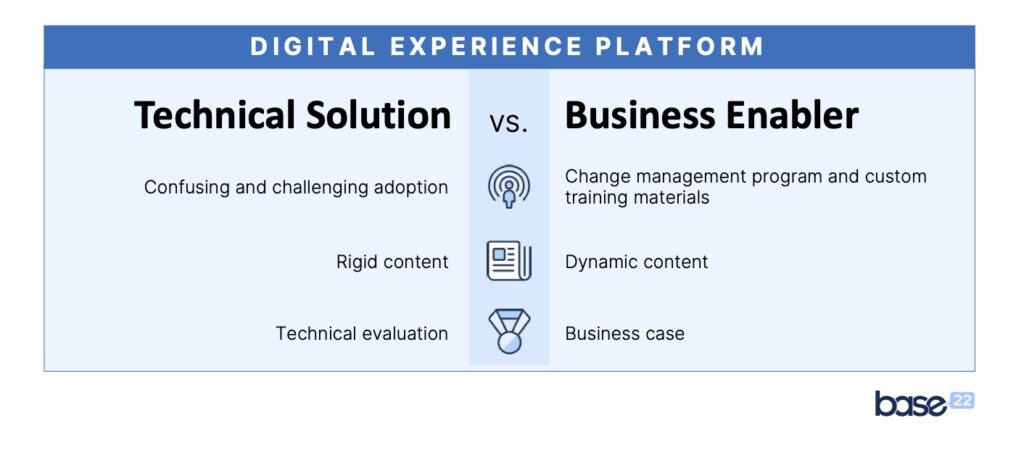 DXP as a Technical Solution
When DXPs are implemented as a technical solution, they focus on the technology rather than understanding how they will be applied to target business outcomes.
Digital Experience Platforms are rich software with extensive features and functionality. Out-of-the-box they provide enterprise-level security and stability. However, buying a DXP for these features alone isn't going to change anything—they need to be applied to a specific business process and tailored around an organization.
If an organization hasn't made a business case of how to leverage the platform to achieve its business goals before purchasing it, it's very likely that the added value—and even ROI—a DXP can give will be limited, if any.
Falling Short: Rigid Content and One-Dimensional Audiences
One of the core capabilities of DXPs is providing the tools and controls to manage digital experiences: dynamic sites where content and services are delivered based on events or context. For example, a dynamic portal can deliver specific content based on what a user does on the site or who the user is, like showing a particular resource page to a staff employee using a mobile device in Germany.
Delivering personalized digital experiences requires a dynamic Information Architecture—which is nothing like a traditional CMS. So, if your DXP isn't delivering dynamic experiences, you may be dealing with an implementation that is not leveraging the full potential of the DXP, and that isn't helping you to engage your audiences and/or drive business.
Confusing and Challenging Adoption
DXPs are enterprise-level software, and because of it, they require training and change management programs. If an implementation or solution doesn't consider what the operational audience needs to complete a process efficiently, companies may have a lot of difficulties driving adoption.
Picture this: a group of content authors needs to create a new internal campaign for a group of employees, but the workflow is slow and complex. There are a lot of functionalities and features that could help content authors, but none of those are being implemented or are actively being used.
So, IT teams, content marketers, and other users are confronted with a bewildering assortment of extra steps in their process to deal with, making it challenging to adopt the solution and, consequently, acting as an obstacle to achieving ROI.
Good implementations not only consider the technical capabilities, but they include or provide tools and processes to support the final users of the solution. Without adoption, a DXP solution isn't a solution at all.
Platform as a Business Enabler
What makes Digital Experience Platforms (DXPs) exceptionally good software for global and large organizations is their capability to orchestrate, manage, and deliver digital experiences to multiple audiences. They both provide autonomy to different business units or departments in a large organization, and offer the right tools to keep control of this environment.
Whether it is a couple of sites or over a hundred sites with millions of users, a single digital platform can serve large organizations and ensure that their experiences are consistent and modern, helping them to engage with the audience, deliver rich transactions and self-service, and targeting relevant content depending on the users' attributes or demographics.
A DXP to Support Business Objectives
The most effective DXP solution is the one that aligns with your business outcomes and is underpinned by a clear business strategy.
What do you hope to achieve with a Digital Experience Platform? Are you looking to improve touchpoints across multiple platforms, gain more control over the business, increase personalization, or make things more agile for your teams?
Whatever your goals or metrics (financial, operational, or customer-focused), you want a solution that allows you to deliver digital services, such as transactions or bookings, or to manage internal communications, such as internal campaigns and vacation requests in one place.
One Solution for Personalized Experiences
A DXP should also serve as a vehicle to create a world-class, highly personalized experience delivered through public sites, mobile apps, portals, email reminders, and SMS while aggregating information for self-service functionalities for on-demand content and services.
This is achieved by rich functionality like hyper-personalization, centralization of content across channels (headless CMS), and audience managers. Implementations with a business needs focus can also support understanding business audiences beyond one dimension, adding attributes such as age, role, and seniority, and targeting relevant content to these specific groups.
Integration & Scaling
Above all, the most effective DXP solution will act as an integrator for the business environment, providing a new streamlined and easy-to-use interface for ERPs, applications, and systems. DXPs can act as a single point of access that will keep consistency and control for digital environments without losing the connection with its users.
And, as your business grows, your DXP should be agile and flexible enough, so you can easily add new microservices or integrate different software without becoming cumbersome.
Base22 is Your Trusted DXP Implementation Partner
At Base22, we help businesses to leverage the most of Digital Experience Platforms by enabling teams and businesses to grow. We don't believe in static solutions that don't serve the end users, and we don't back solutions that won't be adopted or achieve results.
We always aim to find the most effective tactical approach that fits your current business infrastructure and supports your ambitions.
Want to drive business growth?
Request a free UX Health Check for one of your company's digital assets.
request it here