What makes a B2B company successful online? Many would say that being able to transact effectively with your potential and existing clients is critical, while others would add more weight to being able to reach audiences you wouldn't be able to connect with offline efforts. Depending on the specifics of your business model, your Commerce strategy may leverage different technologies: B2B platforms, eCommerce platforms, B2B apps, and B2B automation, for example. But what doesn't change is that effective B2B Commerce solutions are crucial for an organization's success.
With 53% of B2B companies shifting their go-to-market model to digital, businesses cannot risk a dysfunctional user interface. Highly specialized B2B platforms allow business leaders to offer a truly personalized service to their customers along with a range of other benefits. While a standard eCommerce platform may seem like an easy option, a poorly designed digital solution can have a negative impact on customer experiences, and thus on revenue.
In this article, we will delve into the main characteristics of B2B platforms and 5 benefits of modern B2B platforms that you cannot miss.
First, what are B2B Platforms?
B2B platforms are digital solutions designed to streamline interactions between businesses in a digital environment. They encompass various features, including e-commerce capabilities, self-service operations, and communication tools, and can be tailored to manage relationships with suppliers, partners, dealers, and clients. They can be Digital Experience Platforms, eCommerce platforms, or other types of platforms.
In contrast to B2C transactions, B2B transactions often involve multiple decision-makers, extensive negotiations, and larger transaction values. This complexity necessitates a platform that can handle these intricacies and deliver a seamless experience for all parties involved. This is where B2B platforms come in.
Key Advantages of B2B Platforms
1. Integration with Other Businesses
B2B platforms give organizations access to various systems and B2B apps, and integrate seamlessly to create automated workflows and integral dashboards. There are multiple ways integration can help your B2B company:
Integrate your existing systems, such as Enterprise Resource Planning (ERP), Customer Relationship Management (CRM), and Product Manage Information software (PIM), to provide a single location for B2B business and sales processes
Integrating your client or distribuitor's systems with yours to automate Commerce and sales processes, such as recurring orders, invoices, and operational data, through solutions such as a B2B Customer portal
Integrating your vendors' systems with yours to automate procurement processes, through solutions such as a Supplier Portal or a B2B Procurement Platform
Many B2B platforms offer a 360° solution, which can be tailored to fit your needs. This allows time and effort with their everyday tasks and breaks silos, such as those between Operations, Procurement, Marketing, and Sales.
Regarding Commerce, improvements like B2B sales automation, besides saving time and your sanity, help to reduce cost per transaction, removing extra steps in both simple and complicated processes, increasing cash flow, and providing 24/7 around-the-clock access to your services with no added costs or resources.
As the B2B e-commerce landscape is booming, projected to reach $3 trillion by 2027, it also allows companies to connect with potential partners and customers globally without extensive marketing campaigns.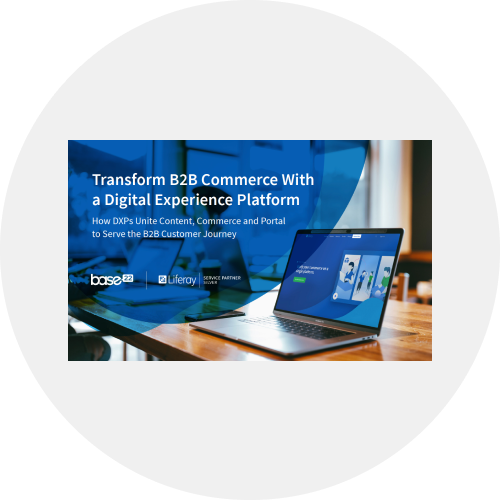 Transform B2B Commerce with a DXP
To stay competitive, companies must move beyond siloed commerce functionality. Learn how Digital Experience Platforms support your full B2B customer journey.
Learn more
2. Supporting Complex Buying Processes with B2B automation
B2B companies often have complicated buying processes associated with the complexity of their products or services. Typically, there's a buying team involved, and a lot of detailed information, such as:
product specifications,
images, mock-ups, or three-dimensional diagrams,
technical documentation,
customer-specific pricing,
discount information,
similar or associated products,
and more.
Many companies employ PIM software to manage some of this information, this type of software doesn't necessarily offer a client-facing interface or functionality for actual transactions and buying processes.
Think about the process behind replacing a component of an industrial machine. The buying team may have the specifics of the component but could be unsure which to pick from a catalog because of the multiple SKUs and subtle differences between them. More importantly, the buying team could be composed of employees of different seniorities and experiences. To make the best decision, FAQs, common issues, and guides and manuals associated with the products should always be available to help them in their journey—and sometimes even be able to connect with a specialist when they need it.
The challenge is not letting unfriendly systems and interfaces stand in the way of buying teams and revenue. Making potential clients go back and forth between systems to find the information they need will only increase confusion and add unnecessary effort when you need them to buy. This is where a buying specialist makes a decision to continue or not to the purchasing stage.
B2B platforms are super effective in this scenario. Automated workflows will minimize service hours needed to complete a purchase or a process, enabling customers to access self-service solutions such as knowledge bases and chatbots while freeing up valuable time for service agents. With 70% of B2B decision-makers willing to make new purchases over $50,000 through self-service channels, this could be a significant revenue boost to any organization.
In addition to this, platforms can also support your teams with B2B sales automation, integrating CRM functionality, and supporting processes such as follow-up, invoicing, reporting, and more.
Disjointed user experiences are very common for companies that are still achieving maturity in their digital infrastructure and digital channels. It can quickly become a root cause of frustration and loss of customers. Leveraging a B2B platform will support your organization in offering well-designed and tailored user journeys and create a seamless experience across your touchpoints while removing friction and unwanted obstacles for B2B buying teams and their internal stakeholders.
3. Going Beyond Transactions to B2B Buying Teams
The first step of B2B Commerce may be enabling transactions and purchase orders; however, it is not the only step needed. Unlike B2C, B2B companies rely on recurring orders and long-lasting relationships to achieve growth. Moreover, successful B2B operations hinge upon accommodating diverse decision-makers spanning a spectrum of management levels, demographics, geographical locations, and job functions.
Given the heightened expectations of B2B customers when it comes to Commerce, two things are clear:
Enabling transactions and purchase orders covers one stage of the buying process while B2B companies need support throughout the complete journey
A one-size-fits-all customer persona is no longer adequate for addressing the needs of multi-layered B2B buying groups
Data shows that 70% of B2B customers are open to sharing more data with companies if it saves them time through their customer journey. With this in mind, companies should aim to utilize these capabilities to create an outstanding customer experience.
With the help of B2B platforms, organizations can design well-thought-out user journeys that cater to various needs using tools such as targeted campaigns and automated workflows. You can also leverage personalization tools to ensure buying teams receive relevant campaigns and marketing resources depending on their location, their interest, or their line of business.
Additionally, with intelligent automation for B2B commerce, users can receive personalized recommendations tailored to their individual user history. This capability enables account managers to address customer needs more swiftly. Unique purchase recommendations and personalized digital experiences can help B2B buying teams go through the sales funnel without encountering obstacles.
4. Gaining Flexibility and Agility
B2B Platforms can play a role similar to B2B integration software. Companies can effectively leverage built-in platform capabilities, enabling organizations to make user interface changes with more agility without needing to make expensive and time-consuming adjustments in the back-end. As B2B buyers report making more than two-thirds of purchases via digital commerce, getting your Commerce platform right can be the key to increased cash flow and long-term success.
Without the need to invest in developers and in-house experts, businesses can utilize the value of real-time metrics, giving ultimate control to leaders and specialists to customize user journeys with the help of B2B platforms. Through the use of in-depth data and analytics, back-end platform users can set up personalized alerts, reminders, or triggers to take care of critical processes and cater to customer needs.
Modern B2B Platforms have Cloud offerings, including SaaS and PaaS subscription models. They may include critical functionality such as high availability for companies that want to ensure their digital channels are available 24/7 (such as government, healthcare, or financial companies), performance scalability for traffic peaks, and disaster recovery programs to avoid losing critical information.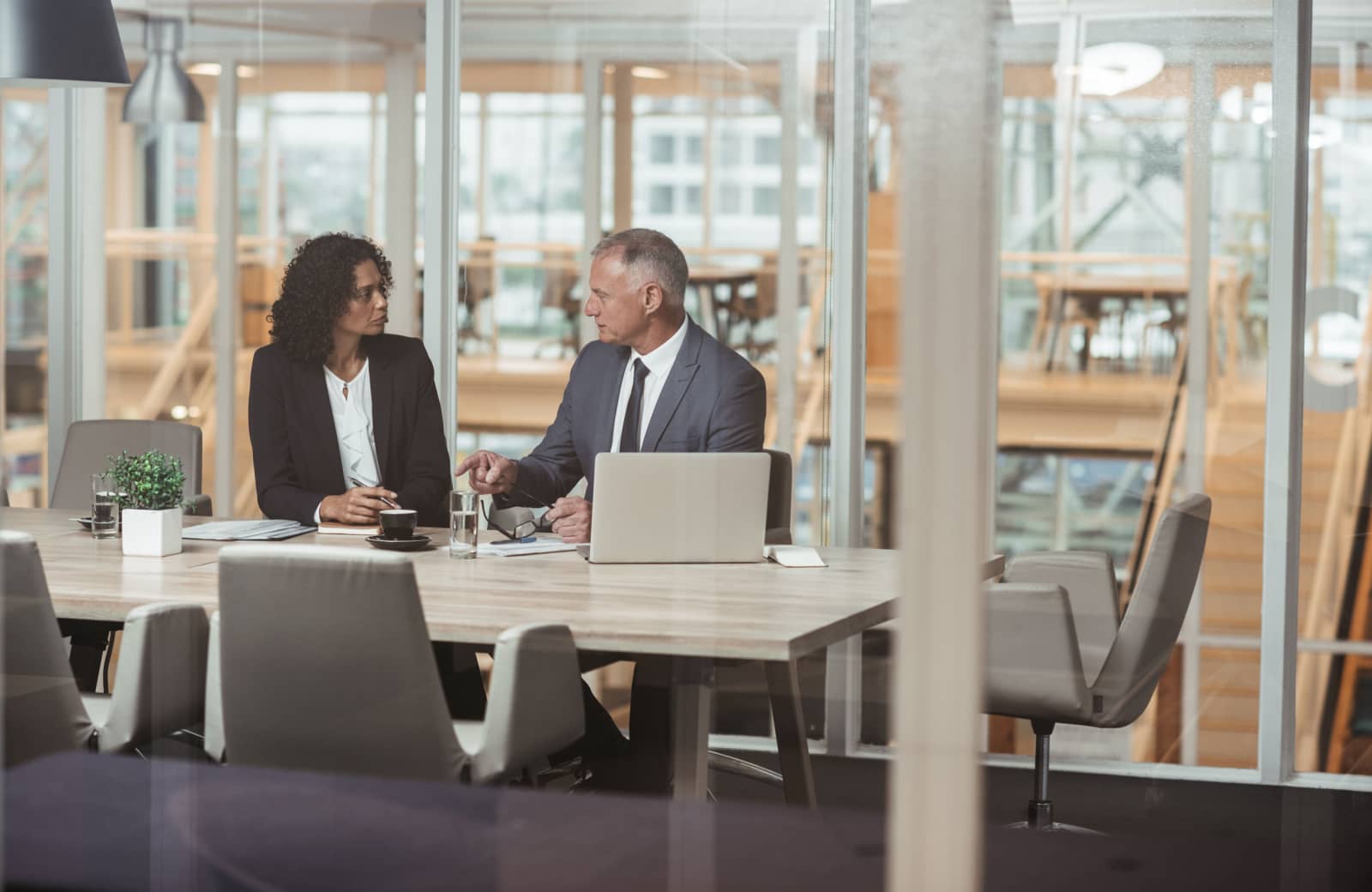 5. Enhancing Security to Transactions and Negotiations
Doing large transactions and complex business only by email is no longer an option. Phishing and business email compromise attacks have surged to an all-time high of 600% following the pandemic, causing B2B buyers to hesitate to engage with new companies.
With enhanced security features through established B2B platforms, organizations can build customer trust and strengthen brand loyalty. Through encryption methods and authentication protocols, B2B platforms provide enhanced protection against potential fraud and cyber attacks using advanced security features and data management. Today, many platforms offer enterprise-level security and even comply with government security standards.
Practical B2B applications also enable leaders to ensure that their operations meet the ever-changing industry standards and regulations. With B2B platforms with Cloud offerings, your platform will update to incorporate improvements, vulnerability patches, and new features that will help your business overcome new challenges as they arrive.
Conclusion: The Future of B2B Platforms & B2B Commerce
The future of B2B commerce lies in the adoption of digital platforms that offer superior customer experiences, streamlined operations, and personalized interactions. As businesses continue to navigate the challenges of the digital age, those that leverage the power of B2B platforms will be better equipped to drive business growth and gain a competitive advantage.
B2B platforms are not just another digital solution. They are a modern, robust tool that will grow with you—a strategic investment that can fuel your business's growth. Whether you're a manufacturing company looking to streamline your supply chain, a wholesaler wanting to enhance your customer experience, or a service provider improving their digital infrastructure with a MACH approach, a B2B platform can be your key to unlocking digital success.
At Base22, we can help you navigate the landscape of B2B platforms and B2B Commerce, and help you to identify the right tools for your needs. Discover a business solution that sets you up for long-term success. Let Base22 assist you on your journey.
Platforms & Portals for Your B2B Needs
Looking to redesign or implement a new B2B platform or portal? No matter at what stage you are, we can help you.
Learn more