Franchisee Operations Portal
Empowering corporate and franchise owners and staff across restaurants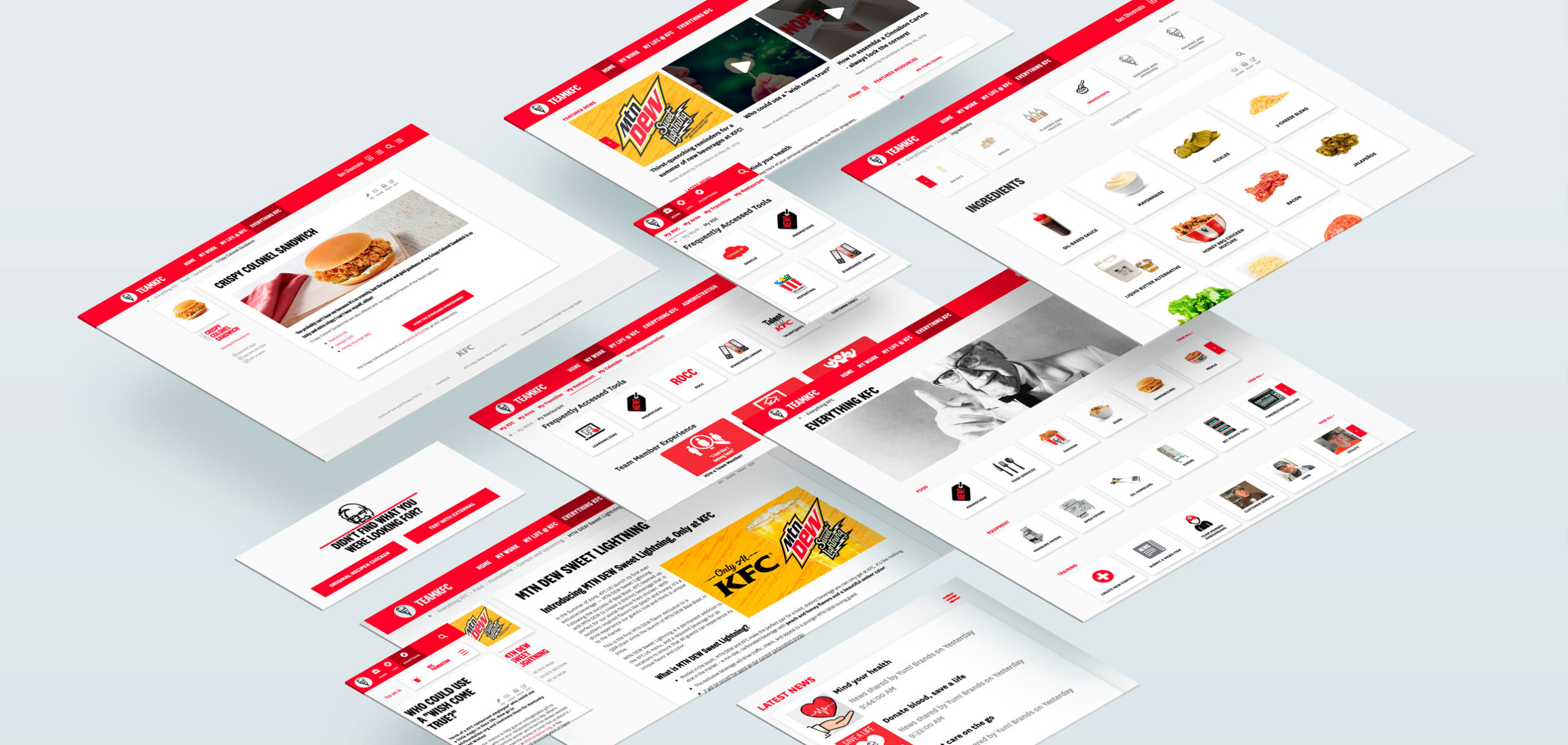 TeamKFC is the main channel of communications between KFC Brand and their 4,000+ franchises in the US. The old solution lacked targeted delivery of content based on role and location and needed to be updated to improve findability that would increase productivity and improve customer experience.  KFC needed a series of cross-functional workshops, including franchisees, so that Base22 could create a roadmap to improve user experience, personalize content delivery, establish a content strategy, integrate corporate systems, and establish governance that would sustain the changes.
Base22 upgraded and leveraged KFC's existing Digital Experience Platform and provided KFC the Base22 proven Portal Blueprint as the basis for the new portal. A new visual system for TeamKFC's interface that matched the renewed image of the KFC brand was created. Once the visual principles were established, Base22 proceeded with a complete redesign of TeamKFC, starting with the catalog content and working up to the landing pages, dashboards, and finally the homepage. The portal content follows the Base22 Content-First approach which establishes robust content tagging (metadata) and sets a strong governance structure. Other important improvements included better video integration, a reengineering of authoring workflow, new governance to break silos, and overall improvement of user experience.
The TeamKFC redesign was successful within the company and also in the industry: it has been recognized with multiple awards, including Best Intranet Design by Ragan's Employee Communications Awards, an Award of Excellence by IABC's Gold Quill Awards, and two Gold MarCom Awards.
Change Management

CMS Implementation

Content Strategy

Customer Interviews

Customer Personas

Digital Infrastructure

Digital Roadmap

Digital Transformation

In-depth Analysis

Information Architecture

Integration

Performance Analytics

Technology Implementation

User Journeys

User Testing

UX Advisory Services

UX Design Sprints

UX Health Check

Wireframing & Prototyping