A Digital Transformation Blueprint
Learn how Base22's Digital Transformation blueprint launched a State-wide program to consolidate agencies in a single digital platform.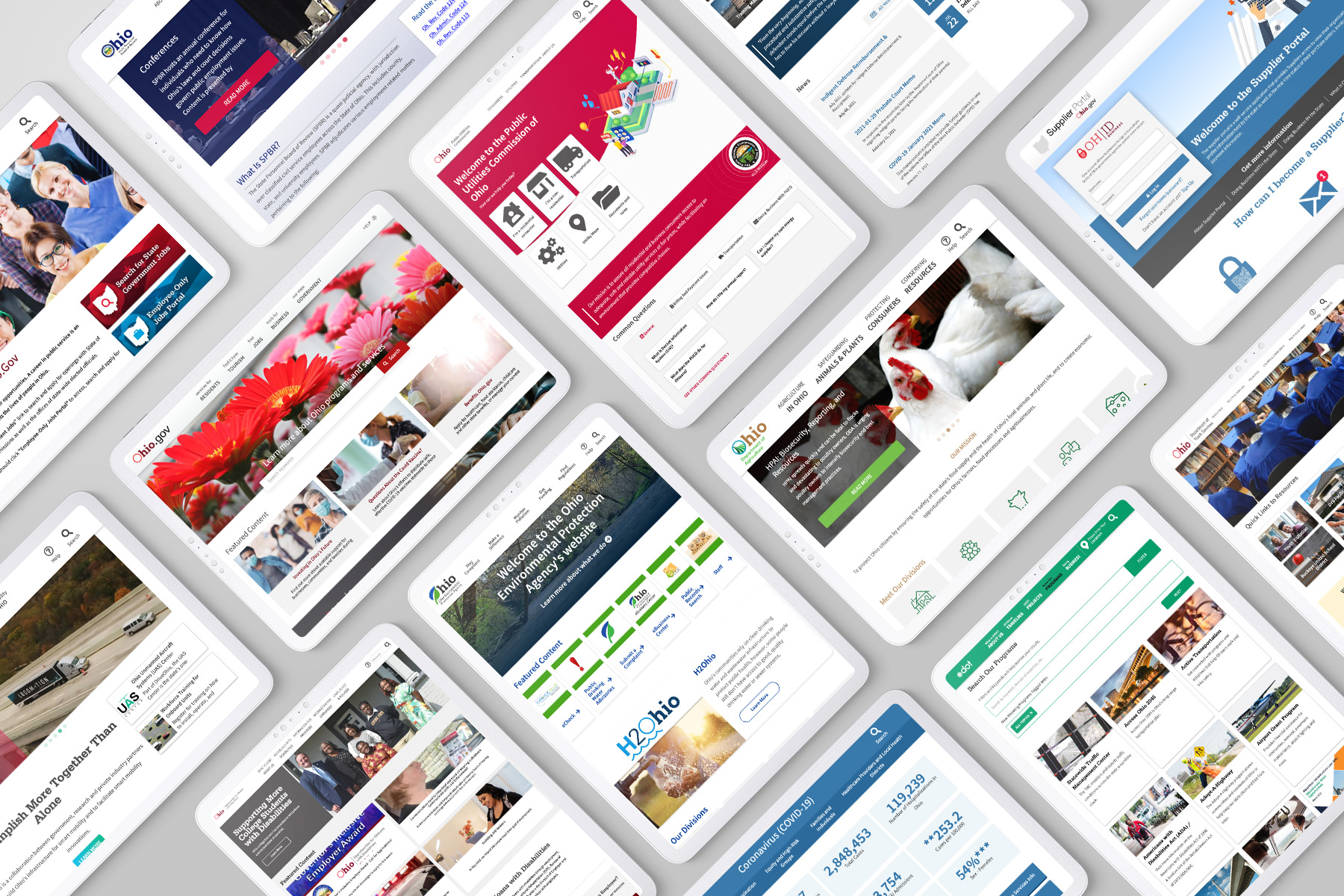 decrease in password reset calls
Faced with….
Users' expectations for digital interactions are increasing with constituents expecting a secure, personalized, and seamless digital experience.
Compliance with ever-growing Federal and State laws and policies is burdensome and costly to State agencies.
The threat landscape and risk of data breaches pose monetary and reputation risks, making essential the expansion of requirements for identity and privacy controls.
The State of Ohio needed a technology platform and a change management program to consolidate and migrate hundreds of state websites. A platform that would digitally transform the Ohio citizen experience, simplify the technology stack, improve security, reduce cost, increase speed and be ready for new technologies while avoiding the typical political minefield of a large organization.
With this backdrop and set of needs, the State began a Digital Transformation journey and a consolidation effort that would positively impact 200+ agencies and over 10 million citizens.
Base22 faced two equally critical challenges with this digital transformation: design and create a platform that would satisfy the States user experience, compliance, and security requirements, and also implement a change management approach that would allow the program to gain adoption.
Base22 used its Portal Blueprint as the basis to solve both challenges. Using blueprint design components, Base22 created a design, built on the blueprint, that demonstrated the art of the possible for the platform user experience. That design was then made into a high-fidelity prototype that demonstrated the site templates and components that would be available for the Ohio.gov site and the agency sites. The prototype became the tool to socialize the platform design and architectural makeup to key State and Agency stakeholders.
The technical and architectural design was based on the use of a Digital Experience Platform (DXP) that hosts the Base22 Blueprint user experience components. The DXP provided the technology components needed for the application like content management, application integration framework, and security integration framework.
With the user experience and technical architecture needs addressed, Base22 built several smaller solutions on the platform to demonstrate the viability of the approach and to allow the State to socialize actual use of the platform to solidify broader acceptance and adoption. The initial cornerstone project was the implementation of the Ohio.gov and three major state agencies. That cornerstone project encouraged the Governor to issue an executive order signed in 2019 that all State agencies onboard to the InnovateOhio Platform. With the Lt Governor as the Chief Innovation Officer and lead of InnovateOhio, the InnovateOhio Platform initiative is still leading many Digital Customer Experience efforts of the State of Ohio.
Change Management

CMS Implementation

Content Strategy

Digital Branding

Digital Roadmap

Digital Transformation

Government Services

In-depth Analysis

Information Architecture

Integration

Operations Management Support

Performance Analytics

Replatforming

Solution Architecture

Strategy Workshops

Technology Strategy

UX Advisory Services

UX Training

Wireframing & Prototyping