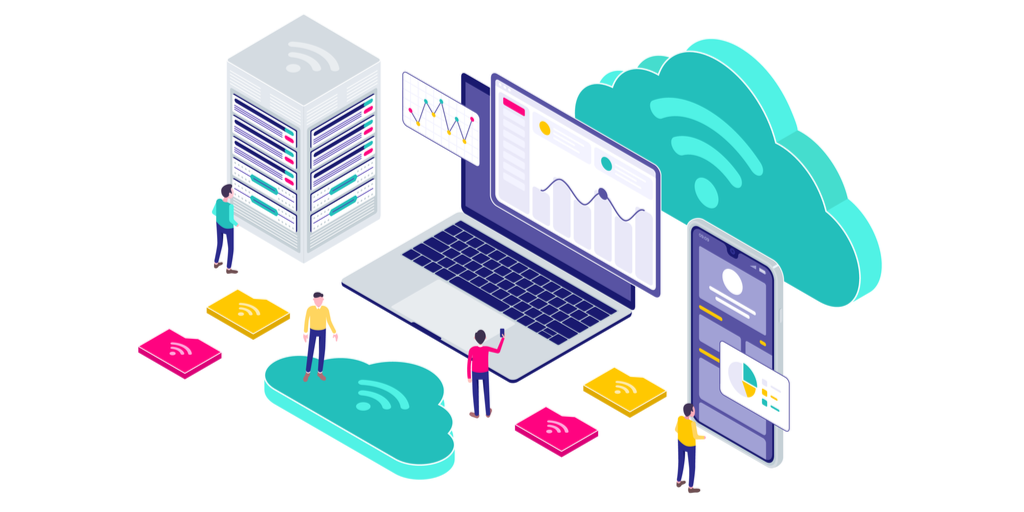 Without a doubt, the Cloud is here to stay. Having a digital infrastructure on the Cloud offers great many benefits to companies of all sizes and industries: with agility, stability, and flexibility, your portal or website with a Cloud infrastructure can reach a new level of customer experience for your audiences.
But what does "migrating to the Cloud" means? It means your portal or website will be maintained and supported in an infrastructure-as-a-service scheme (IaaS) with a certified provider. Instead of downloading and implementing a software in your servers (physical or in a private Cloud), through a subscription your portal and website will be leveraging an up-to-date digital platform software with content management capabilities, that will be hosted and maintained in your provider's environment. Examples of this type of offering are Liferay DXP Cloud, Salesforce Experience Cloud, Acquia Cloud Platform, and Adobe Experience Cloud, among many others.
When it comes to portals and digital experience platforms (DXPs for short), we know that going Cloud is a project by itself: it must consider requirements, business needs, and of course, your company's technology roadmap for the next years. Sometimes it may involve large content migrations, and it may also be a great opportunity to rethink business process and workflows, given the new and modern functionality. Once you start, the transition of all your platforms and applications to Cloud will only accelerate and the performance of your business-related processes will improve to reach new levels.
So, is your company ready to bring its portal to the Cloud? Here are some key questions that can help you understand if a Cloud offering is the right digital infrastructure for your portals and websites.
How responsive is your IT Team? Is agility crucial for your business?
One key difference between a Cloud offering and an on-premises infrastructure is maintenance. On-premises infrastructure requires an IT team that can support it, fix it and overall take care of it. Large and global companies have dedicated teams that can give service around the clock, but for those who don't have a robust IT team or have difficulty scheduling dedicated time, a Cloud offering can provide a lot of stability. With their self-regulating performance, and support and improvements provided by the professional team who developed the platform, a Cloud portal can "self-heal" and take care of itself, allowing the company to focus on relevant value-added tasks: creating online services, content, and engagement.
How important is availability for your business portal?
Another key feature in Cloud is availability. Take Liferay DXP Cloud for instance: it integrates out-of-the-box strategies to ensure the availability expectations. In its standard subscription, Liferay DXP Cloud commits to an SLA of 99.95% of uptime and can respond within two hours in the case of a catastrophic incident, and its recovery strategies span at every level (platform level, server level, availability zone level, and region level). Unless you have a very robust Technology department and global infrastructure, this is hard to achieve for most companies. If needed, Liferay DXP Cloud also offers a custom subscription with additional instances for mission-critical applications that require a highly available platform, as well as additional nodes to keep the application online even during an event that takes the entire cloud region offline.
Does your portal have sudden peaks in traffic?
Plenty of businesses have seasonal products or services that make certain times of the year subject to huge amounts of traffic. Other companies have legal and commercial obligations that make them to be extra careful with their uptime on their portals and websites. With both unexpected and expected peaks, regular processes in portals and websites must be adjusted to be able to attend to and support all users and visitors. In an on-premises infrastructure, this means more hands from your IT team and a lot of overtime when the peak arrives.
For this type of companies, Cloud portals can provide auto-scaling capabilities, that will ensure your portal maintains a steady performance. While it has additional cost to your standard Cloud subscription, it doesn't require any configuration or additional development to be able to auto-scale in those difficult moments. Just turn it on, and there, you are covered.
Does your portal have many integrations? Are they custom?
This is something to consider carefully with your infrastructure engineers. Streamlined portals and websites with standard integrations can leverage regular upgrades with their Cloud DXP. Improvements, patches, and bug fixes are usually included in Cloud subscriptions, which keeps your digital platform up-to-date and even gaining additional functionality for the same subscription cost.
On the other hand, if your environment has a lot of custom integrations, moving the DXP to the Cloud offers the opportunity to re-evaluate and upgrade those integrations to a standards-based REST API protocol which can leverage the API management solutions offered by all major Cloud providers. This in turn will simplify your IT staff's API support tasks and more easily support changes and new integrations in the future.
Are you planning on implementing additional portals or websites as part of your technology roadmap?
This is probably the most important question of them all. If your company is interested in developing and implementing new authenticated portals or websites as part of their growing digital environment, having a Cloud solution can save you great amounts of time and efforts. For example, in Liferay DXP Cloud creating new sites is an agile process, with zero-downtime, and minimum setup. With its multi-tenancy capabilities, you can have different portals managed by different user groups living under one single environment with all the privacy and autonomy they need. Having a Cloud digital infrastructure means having a great ally for your roadmap: not only will provide you with support for whatever you are doing but it will enable you for the future.
Now that we have covered those key points, it is important to take into account that these questions not only apply to portals and websites but to any other digital asset like digital workplaces, ERPs, and overall business software. Cloud is the new way to make business online, but it must be carefully evaluated where it can give your company the most value.
Schedule a call with a consultant today
If you are interested in going Cloud with your portals and websites, feel free to drop us a line and tell us everything. We are here to help you out through your digital journey.