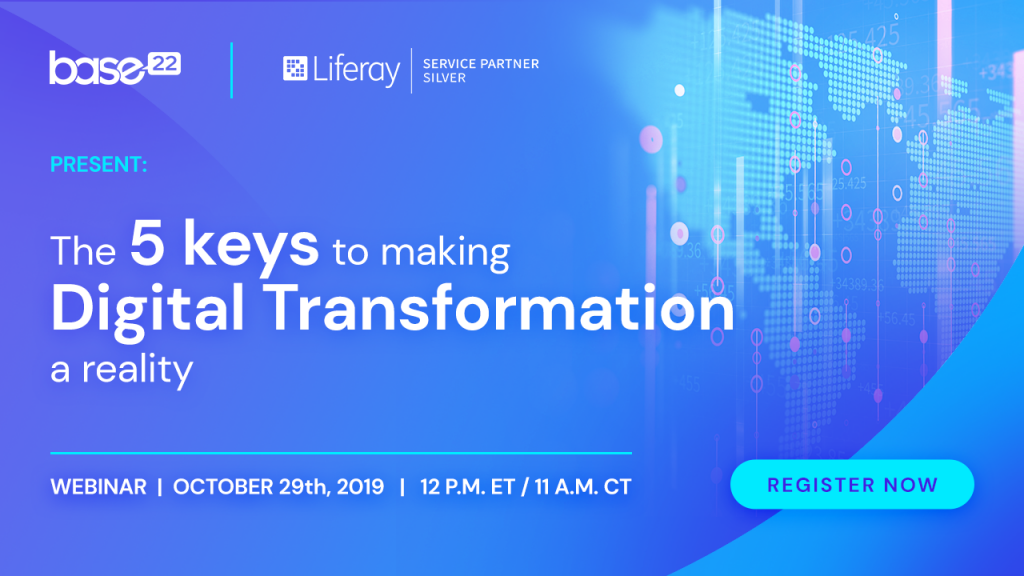 This October, Base22 is teaming up with Liferay to present the webinar "The 5 Keys to Making Digital Transformation a Reality", recommended to directors and executives from IT, New Media, and Communications. Join us as we dive into the topic of digital transformation: we'll discuss how your business can build a digitally mature environment, how the transformation imperative is applied across industries, best practices on the implementation of modern digital platforms, and key components to achieving a successful digital transformation.
Recommended for both B2C and B2B companies from any industry and any size, the webinar will present successful case studies from global companies.
Save your seat today and get all the inside knowledge you can for your next major company initiative. Registration is free, but seats are limited.
Webinar: The 5 Keys to making Digital Transformation a Reality
Hosted by Base22 and Liferay
Tuesday, October 29th, 2019 @ 12 pm ET / 11 am CT

Through this webinar, Base22, digital consulting firm with an expertise in digital transformation, continues its long-term partnership with Liferay, leaders for 9 years in a row in Gartner's quadrant of Digital Experiences Platforms.