Why is partner enablement important? Customers don't differentiate between partner and brand experiences. Forrester Research confirmed this in their last year report. Most of us have first-hand experience on this topic: when a customer buys a new car, the dealership customer experience is what they tie to the brand, in the same way that a luxury supermarket will imprint a positive luxury feeling over a purchased product.
Partner enablement programs ensure that agents and reps have product information, marketing campaigns and resources, and knowledge bases to provide that experience as if they were the main brand. Channel partnerships are widespread across industries, such as manufacturing, technology, logistics, construction, and retail, which rely heavily on B2B partnerships to achieve success.
As companies grow and operations cover many states and countries, partner enablement programs build complexity. They need to consider different brands, locations, language localization, and types of pricing per region, plus cultural uniqueness. They also need to integrate technology to create a dedicated channel of communication between the headquarters and all their partners and build a collaboration culture that will drive their sales and customer experience efforts to success.
Partner enablement programs face challenges regarding both how they are structured and promoted and how partner technology is implemented to support them. In this article, we will focus on the latter. Here are the five most common B2B partner enablement digital challenges and effective solutions and features to address them.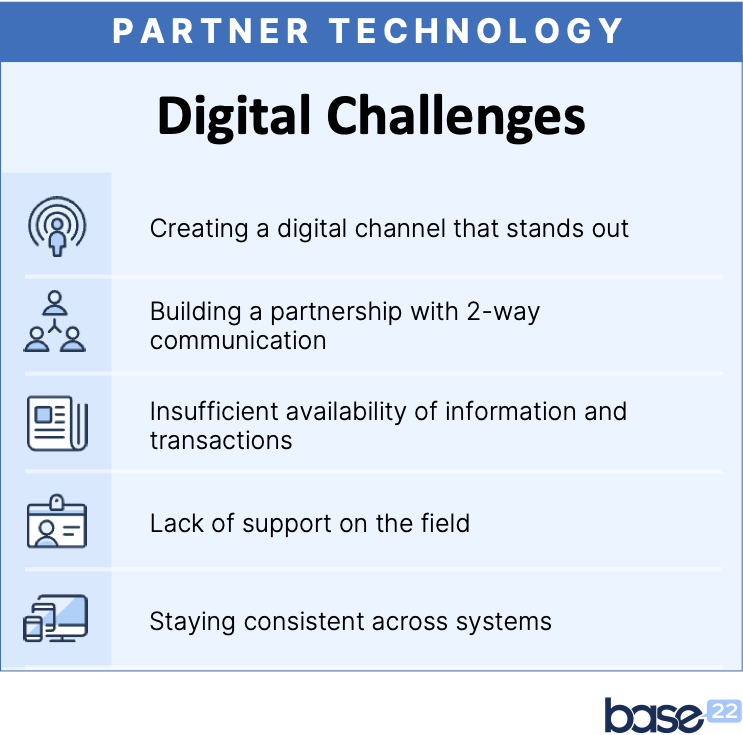 Partner Enablement: Digital Challenges & Solutions
Challenge 1: Creating a Channel That Stands Out
Typically, partners grapple with an overwhelming number of partner B2B portals and partner platforms. They manage multiple brands and systems at the same time as well as different workflows and materials. Considering that 77.6% of all organizations and 92.6% of enterprise companies have a partner program, according to a report by Hubspot, this makes "fighting for attention" a central issue when engaging partners.
Now, imagine a B2B portal or partner platform that is difficult to use. Common issues with Partner and Distributor portals include…
How quickly distributors and partners can find key product information, such as product specifications and pricing, and how it impacts efficiency,
How manual processes and paper-based transactions may be increasing costs, and/or
If an application, portal, or platform has mobile support for field teams and non-connected workers
In sum, a portal that doesn't stand out or that stands out as bad loses ground against other brands. Thus, it becomes paramount for organizations to streamline their processes and consolidate these platforms for enhanced partner enablement. In other words, offering an intuitive and positive experience is key to engaging partners to work better with your business, which will turn into strong relationships in the long run.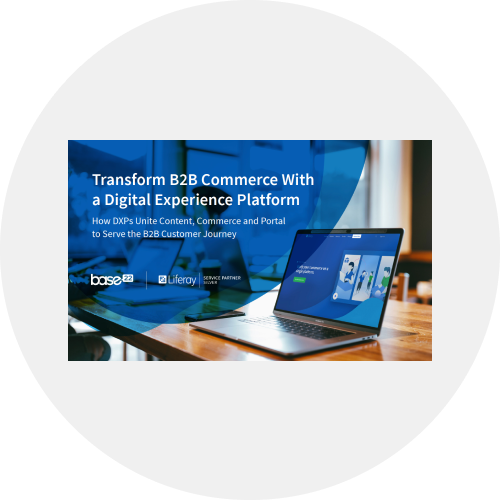 Transform B2B Commerce with a DXP
To stay competitive, companies must move beyond siloed commerce functionality. Learn how Digital Experience Platforms support your full B2B customer journey.
Learn more
Challenge 2: Building a Partnership That is a Two-Way Street
Effective communication is the cornerstone of any successful B2B partnership, as Forbes suggests. At the same time, collaborating with partners across different geographical locations, time zones, and cultural backgrounds is challenging. To streamline information interchange and alignment, organizations need powerful communication channels that target not only both real-time communications but also async workflows and collaboration.
To make sure your partner enablement software, solutions and technologies are aligned, it is critical to have two-way communication with your partners.
Some of the things to consider when understanding your partners' needs are…
Are there any particular processes that are more complex than what they should be?
How easy is it for partners to find, compare, and select the right products for their customers?
How easy is it for them to find sales enablement materials, campaigns, and resources?
How do they feel about their digital experience? Are the content, campaigns, promotions, and recommendations relevant to them?
Businesses with partnerships can leverage traditional methods and digital tools to create two-way communications with their partners. For example:
Using interactive forms to collect feedback,
Conducting digital surveys to gather input for new features or requests,
Schedule interviews to go in-depth with partners and their needs, or
Create focus groups to gather insights about their experiences with existing partner platforms or partner technology solutions.
Based on this feedback, organizations can optimize digital solutions and partner platform features, improve user interface design, and create personalized experiences for partners. Just like with any customer, partners are also key audiences, and understanding how to support them better works for the best.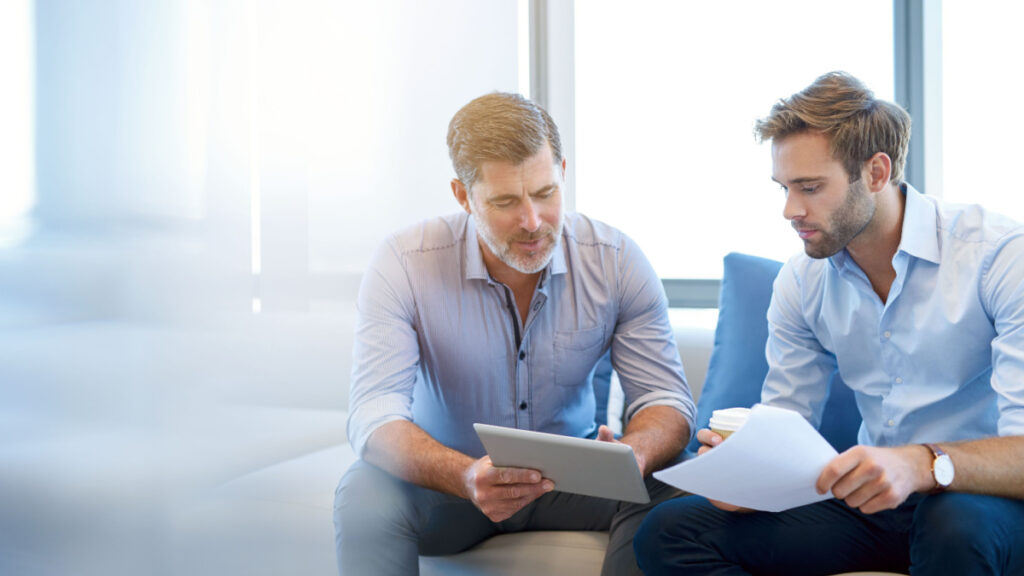 Challenge 3: A Partner Platform with Insufficient Availability of Information and Transactions
Just like with employee portals and productivity, a bad technology implementation can negatively impact the overall efficiency of a sales enablement program. This applies to B2B sales software, partner enablement software, portals, tailored solutions, and applications used by business partners as part of their sales and customer experience efforts.  
Information availability, process efficiency, and content findability are the most critical and recurring technology issues regarding communication and sharing resources with partners. This is particularly true for business models like B2B2C and B2B2B. Why so? Because it likely relies on sharing product information and marketing campaigns to empower agents and reps.
If product or marketing information is not readily available when the partner needs it or it is confusing, it won't be effective. If a partner needs to find the answer to a common issue or collect a payment but doesn't have the tools to do it, it's an opportunity cost.
That's why self-service features have such an important role in partner enablement. Self-service can cover a lot of processes, and some of these include…
Transactions and payments,
Comprehensive knowledge bases,
Training materials,
Documentation,
Policies and FAQs,
Playbooks,
Dynamic pricing lists depending on the region, and
Product catalogs
Assets and document management is another important feature that can help partners easily exchange important files (such as project plans, reports, and presentations) without the need for lengthy email threads or physical shipments.
Enabling partners to take charge of finding relevant information without needing to contact the vendor directly not only enhances their experience but also reduces the burden on support teams and accelerates time to value. Empowering partners by streamlining key processes and transactions with self-service is essential for reducing cost per transaction, which maximizes the effectiveness of partner technology solutions and platforms.
77.6% of all organizations
Challenge 4: Lack of Support on the Field
There's more to business partner enablement than partner websites, however. To be fully beneficial, the solutions must have everything we've already discussed plus on-the-ground support. Partners need the tools, resources, and training to excel in their sales and service roles, even when they are on the field. Organizations that don't provide those resources are leaving their partners out to dry.
Oftentimes, your B2B partners are on the go using their mobile devices. Thus, it's essential to equip them with a mobile solution or a responsive partner platform. Something that can provide access to assets and communications when engaging directly with a client or a prospect. This way, your company can ensure that the B2B buyer journey is positive.
Some digital use cases for partner enablement in the field are…
Product information, inventory, quotes, or checking order status of a product or service,
Marketing campaigns, materials, and guidelines,
CRM functionality and lead routing,
Common issues and questions, and
Access to sensitive documents such as contracts and invoices
Making information and processes available to your partner outside the office lets them engage with customers more effectively. That enables them to provide great customer service.
prioritize integrated portals when purchasing partner technology 
Challenge 5: No Consistency Between Partner Enablement Software and Systems
The more complex a business model is, the more systems and applications there are to integrate. It is not a strict rule, but definitely more common than not. Between eCommerce solutions, PIMs, CRMs, ERPs, marketing applications, legacy systems, and communication suites such as Teams and Slack, the myriad of partner enablement software, technologies and solutions around business partners always seem to keep growing. 
Traditional partner collaboration approaches often fail to address challenges arising from integrating diverse systems, processes, and data, as per HubSpot. It's no surprise then that integrated portals are a critical consideration for 74.2% of B2B partners when purchasing partner technology. Being able to work with multiple systems and applications from a single platform is critical not only to avoid confusion but to drive efficiency.
Here are some of the common issues around managing non-integrated systems:
Having different IDs to access multiple systems,
Re-entering the same data across multiple systems,
Not having key data and information in a single location to make better decisions,
Duplication of resources and contradictory information across systems, and
Long and time-consuming processes and manual work
These challenges present a big obstacle to achieving scalability and driving revenue with business partners. 
Modern digital experience platforms can integrate legacy systems and applications and provide an intuitive and consistent experience across the digital ecosystem. Using ERPs and CRMs connectors with a Digital Experience Platform, businesses can bring key information and data and present that in a way that is relevant and easy to absorb by their business partners.
In addition to this, being both consistent and cohesive will also help your channel to stand out, as we pointed out at the beginning of this article. 
Digital Challenges of B2B Partnerships: Parting Thoughts
With partner enablement programs, the better tools you give them to improve their work, the better for both of you. There are plenty of modern partner technology and solutions that you can leverage to improve your partner collaboration efforts such as partner platforms, partner portals, B2B sales portals, and partner enablement apps. However, just owning partner enablement software or having a technical solution doesn't magically fix the challenges around indirect sales and B2B channels.
Like with any Digital Transformation project, sales enablement is not about technology, it's about people. Driving adoption, targeting users' needs, protecting the buyer's experience, and collecting feedback are critical steps in ensuring success with your digital solutions.
Effective partner programs go beyond creating materials and offering incentives to creating solid relationships that are powered by technology to do more with less. Moreover, they ensure that your partner portals and platforms serve as valuable tools for sales reps and agents—as opposed to adding unnecessary complexities to workflows.
It is never too late to align your digital solutions with your B2B buyer journey and support your partners with technology to enhance their performance. One of the most effective ways to create strong B2B partnerships is leveraging digital experience solutions. Having a single source of truth, such as a B2B partner portal, is crucial for effective partner engagement. By providing a centralized partner platform, businesses can ensure clarity over aspects like pricing or expired materials. Likewise, partners can easily access the latest content and updates, ensuring dynamic and up-to-date communications.
If you have a challenge you would like us to take a look at, or you have an upcoming project related to B2B technology, feel free to contact us. We are passionate about enabling your company and your partners to grow.
Partner Portals Made Easy
Our B2B Partner Portal Solution creates superior B2B CX and drives adoption powered by a robust platform.
Learn more