Transform B2B Commerce With a Digital Experience Platform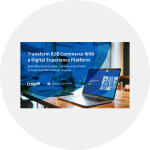 Pure play digital commerce platforms have traditionally lacked the robust site building, personalization, and authenticated experiences needed to do digital commerce well across the entire customer journey. To stay competitive, companies need to move beyond thinking about digital commerce in a silo and address it in the context of the full customer journey with a comprehensive Digital Experience Platform.
Download this booklet to understand:
Why Portal and Commerce Capabilities Are Critical for the B2B CX
How Digital Experience Platforms Support the B2B Customer Journey
The Three Different "Categories" of DXPs
We value your privacy. By submitting this form, you confirm that you agree to the storing and processing of your personal data by Base22 as described in the Base22 
Privacy Policy
. This site is also protected by reCAPTCHA and the Google
Privacy Policy
and
Terms of Service
apply.