Remote work is here to stay. After the new habits developed under the Covid-19 pandemic and the current inflationary pressures, digital workplace technology has been one of the few ways companies and businesses have found to keep going and largely eliminate downtime. 
Online collaboration, videocalls and remote meetings, document management, and Cloud services are some of the budding characteristics of a digital workplace. For many companies, it has been a lifesaver for operations; for many others, it is still an unknown road. The current situation requires companies to re-evaluate, acquire and/or make use of existing technology with speed and precision.
While everyone understands the need to be a team player with digital workplaces, it takes considerable effort to do it right, from leadership support to allocating budget to making it a reality. And like with any new technology implementation, digital workplaces also require developing a culture, training, and above all, change management.
So here are some of the things we can share with you on the road to creating a perfect, well-rounded digital workplace strategy—as experts in intranet portals and Digital Experience Platforms—to keep in mind as you continue forward along this path.
In this article, we will review topics such as: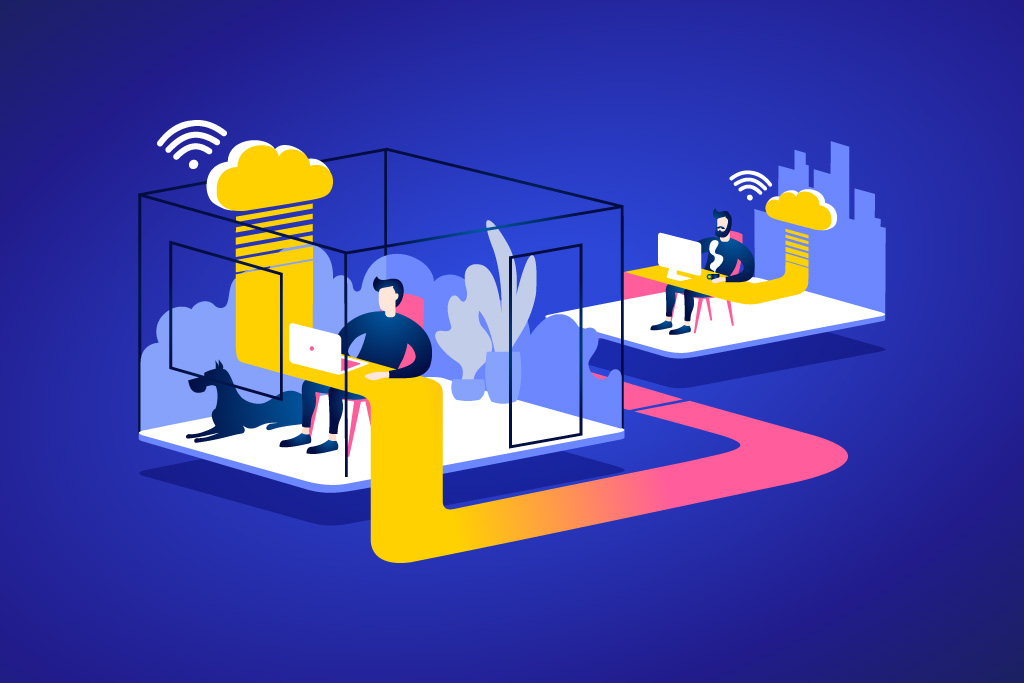 Creating a Digital Workplace: The Right Infrastructure to Rule Them All 
Think of a digital workplace as the "house" where your company is hosted: where your employees can bring their resources and work together every day. Software or services for this can offer technology like video calls for online collaboration to full-spectrum services like self-serve functionalities, content publishing, and business intelligence dashboards. A selection of these includes G-Suite, Microsoft Teams, Slack, and intranet portals built using Digital Experience Platforms (DXPs) like those recognized by Gartner's Magic Quadrant.
Rarely a company uses all functionalities in a suite: they concentrate on those that work the best for them, like document management or video call functionalities. So you may want to consider if your core collaboration services and "out of the box" (OOTB) functionalities are enough or if you need a platform to integrate the functions into a cohesive digital workplace.

When implemented right, enterprise portals and Digital Experience Platforms can bring a large company up to speed in a few months with high-level functionality and customization that fits their needs. They provide security, analytics to meet specific KPIs, and full-spectrum services.
You may also consider the long-term: your strategic technology roadmap. Like a couple that buys a big house for a growing family, you need to think about how your digital workplace is going to evolve over time. For example, you may start with video calls and online collaboration and later, as the business grows, expand to project documentation, automation, and self-service digital workplace tools.
Digital Experience Platforms (DXPs)—like Liferay DXP, HCL DX, and Adobe Experience Platform, to mention a few—are robust, enterprise-level software that offers both OOTB capabilities and customization and enables you to bring different business functionalities together in one single place, whether they are internal communications or B2B commerce. The more integrated your platforms and portals are, the more seamless and complete the experience you can build.
As a side note: We don't recommend developing a custom portal from scratch, especially if your business is time-sensitive and doesn't have a dedicated IT team for the project. You can read more about this topic here.
Creating a Unique Employee Experience in a Digital Workplace
Many companies and businesses have a specific definition of what their customer experience stands for, like reliability, quality, and on-time delivery. However, when it comes to employees, the question of "What does the employee experience look like at my company?" sometimes gets lost.
Understanding the employee experience is somewhat new territory, but when it comes to creating digital workplaces, this understanding is vital. It should elevate your company's values but also respond to what your users (your employees, in this case) need. Employees need information, resources, and clear paths to be able to fulfill their roles. However, there are different groups, with unique necessities, in a company. A management employee may not have the need for mobile functionalities like a frontline employee has, for example.
When creating or improving a digital experience for your employees, your technology infrastructure (such as a digital platform) should be able to meet these ends simultaneously. Personalization not only makes your digital workplace feel more relevant to your users, but it also allows them to focus on what they need while reducing support calls to IT.

This idea can go beyond employees and can be adapted to any type of collaborators or business partners that make your business function. Like KFC did with their TeamKFC intranet portal, your digital workplace can become a unique and essential place for everything related to working with your brand.
Self-service Goes Beyond Customers
"Self-service" means removing obstacles so that your users can quickly complete online transactions or processes. It is something that goes along with the "empowerment" nature of the digital world — giving the users more control over what they can do thanks to technology and its integration into business processes.
So, when we talk about self-service for the digital workplace, it means empowering your employees or stakeholders to be able to complete processes on their own, with little or no support whatsoever.
Self-service can be pretty helpful when you need to work in processes that impact how quickly an employee can do their job and service customers or each other. Many HR, management, and financial processes can be redesigned for self-service, complying with your company's requirements and rules.
Think about automating the request for vacations or submitting a reimbursement. With the correct documentation, user flow, and user interface, self-service tools can reduce calls, help desk, and support times and allow teams to focus on other tasks important to the company.
One idea that helps a lot in understanding which processes should be automated is friction. When filling out a form for sick leave, does having a lot of steps or form fields make you feel better? It rarely does. If only it makes you feel like "the system" doesn't want you to do it.
Having friction might add a layer of discomfort or distrust for specific processes. Automating a process can help you remove most of the friction and, by simplifying the steps, actually achieve something. Reengineering processes to keep your employees happy is one of the things you can do to enhance a digital workplace.
However, keep in mind that making things simple doesn't always fit user's needs. Friction can sometimes be important. For example, at a doctor's appointment, the process of collecting info, being guided through, and checking every symptom, makes the patient feel more secure and taken care of.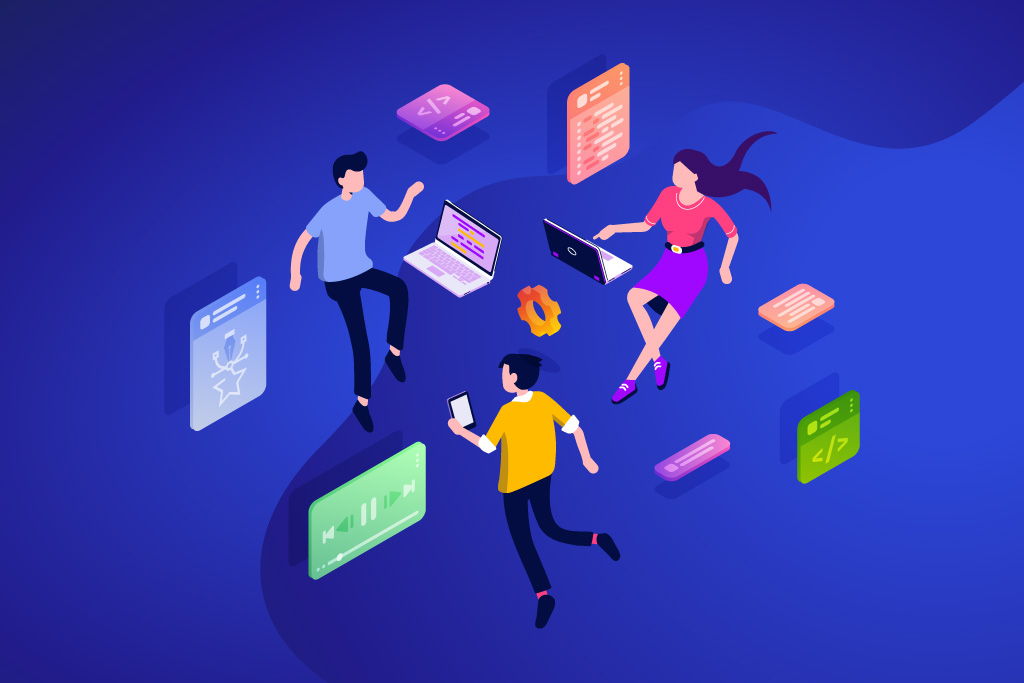 The Importance of Bringing Everything Together When Creating a Digital Workplace 
It's quite common to find companies of all sizes using different software, platforms, apps, and technology services that don't connect to each other. Since many of these have been developed throughout different stages of the company, they aren't necessarily made to fit or work together. There's a digital environment available, but it doesn't seem to follow a plan.
In the long run, this "unplanned" type of development may cause confusion and time loss: employees and stakeholders have to find their way in a sea of usernames, passwords, and login URLs. Sometimes they deal with extra processes to migrate information from one space to another in order to complete one single task. And security can fall short when there are many different requirements to comply with and one busy IT team trying to tackle them all. 
Bringing tools and resources together is one of the secret goals of the digital workplace transformation. Following the analogy of the "house" for your company, a digital workplace should hold and store all the basic stuff that your employee needs to be able to do their work comfortably every day. That means collaboration tools, apps, resources, documents, policies, contact information, statuses, favorite links, operations, business intelligence, and every other type of useful data that comes to mind.
Integration starts with good, simple catalogs and dashboards designed according to your different employee groups' needs. While it sounds simple, it is a big company-wide effort that carries enormous benefits. On the one hand, infrastructure integration allows you to have connectivity and good communication throughout your digital environment. On the other, compiling different types of information in an organized and findable manner will enable you to break down silos, create insights, and leverage your company's memory. That's a technology win-win.
Most important in all of this is that it creates a culture where integration promotes collaboration between departments, clear communications in complex processes, and standardization among the company. It starts to build the foundation for a company that is becoming smarter, more agile, and more responsive.
Building A Digital Culture and Moving Forward
One of the hardest things about implementing new software or technology is adoption. While certain decisions might be unavoidable in crisis scenarios, reinforcement and continuous training will always be the leading recommendation. On the journey toward creating a digital workplace, strong leadership supporting the benefits of a new intranet portal, communications service, or platform is crucial for creating a culture around it and finally reaching top-to-bottom adoption. 
Along the path, think of quick wins. Exercising one feature at a time that allows your employees to save time and effort can create a positive image of the new technology or platform while also defining an achievable deadline. Sharing with your leaders a specific goal to meet, like relocating all activity to the new platform, will also encourage commitment and a sense of urgency.
Change management is not easy. It requires leadership, patience, and consideration, but also tactical knowledge on how to deploy new activities or tasks internally. If you take a humane approach, not only will it be easier for everybody within the company, but you may also gather relevant information that will help you to keep refining your digital workplace.
Let's double down on that last idea: even if your digital workplace is fully adopted and works well, it doesn't mean the journey is over. Refinement, improvement, efficiency, and maintaining quality should be your next milestones.
Like any other software or digital product, digital workplaces should iterate to evolve through time and expand their functionalities around their users' behaviors. A perfect digital workplace is successful at attending to both the needs of its business and its people. The quicker you get to that road, the faster you will be able to run down it.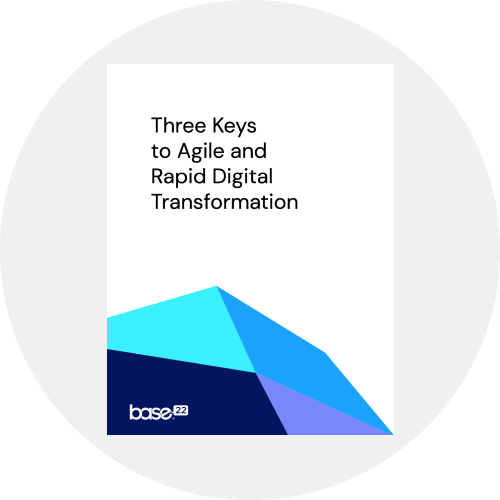 Want to become a Digital-First company?
Check out our whitepaper on Agile Digital Transformation.
Download