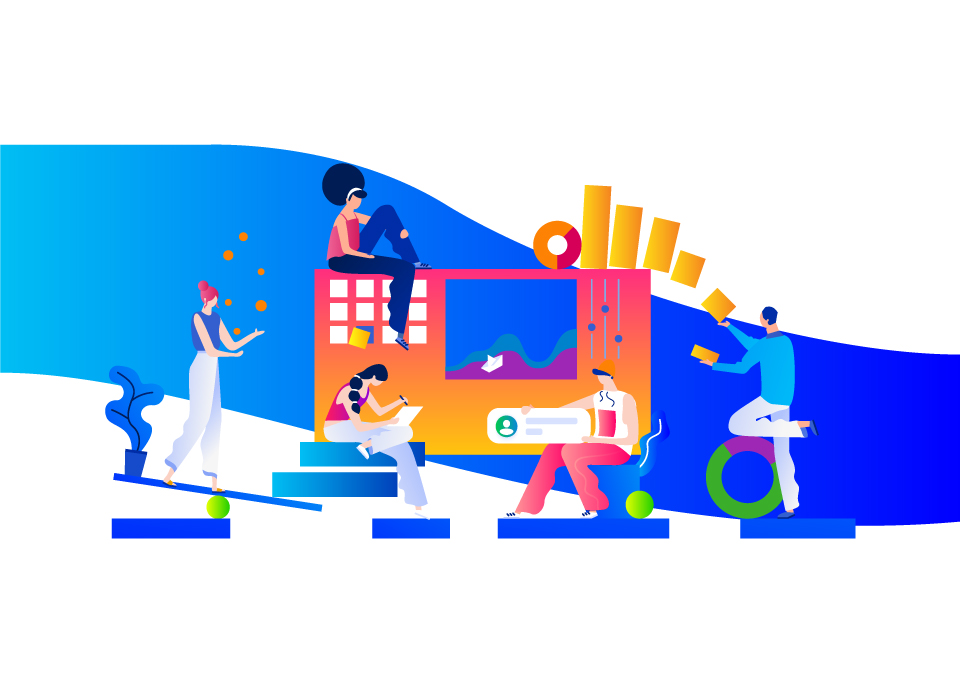 Promoting internal campaigns and programs is an art form. And it's a very complex one. Internal Communications teams in large organizations and global companies have thousands of important things to communicate to employees every single day. With careful balance and planning, the team makes decisions on what to say, how, and when. However, many companies are yet to take it one step further: designing and delivering digital experiences for their employees with a hyper-personalization approach.
It should be clear by now that having one general banner or carousel to display all relevant information in your authenticated portal or intranet doesn't cut it anymore. The Covid-19 pandemic has only increased the things we want to share with our employees and partners. And addressing a workforce is a challenge by itself: it may have many groups within (such as departments and locations) and intersections between these groups.
Digital marketers are familiar with segmentation; they use it for outreach campaigns and brand awareness efforts all the time. And Internal Communications work in a similar way: each employee group has its own journey, and what they need to know may be completely different.
Consider the following groups:
The difference between a Sales department in the US and one in Europe – similar tasks but different HR processes
The difference between a frontline worker and a desk worker – is the first needs to be able to stay in touch without a laptop or a computer, that is, mobile
The difference between recent hirings and employees that have been with the company for more than a year—the first ones need more training, support, checkpoints, and learning resources
Within the convergence of these ideas is where the real challenge lives. How does a company make sure that its internal campaigns and programs are consumed by the right internal audience in its digital channels? This applies to portals, intranets, internal social networks, emails, forms & surveys, etc.
This is where hyper-personalization comes in. Hyper-personalization means to cater content for your different internal audiences leveraging your portal or intranet: tailored homepage, customized notifications, and overall managing a rich, personalized employee experience through a portal. This technique has been one of the main features that distinguish Digital Experience Platforms (DXPs) from regular Content Management Systems, something we have talked about in this blog before, and it is becoming key for any large enterprise or organization with digital channels.
Let's take a look at how hyper-personalization supports Internal Communications to meet its goals both at the department and company levels.
1. Hyper-personalization allows you to create and manage internal audiences in your digital channels
Delivering meaningful communication to every team member and collaborator at our company is crucial for success. And the very first challenge is to build that audience first. Using the Information Architecture discipline and a portal strategy, you can set up the groundwork to define internal audiences relevant to your Internal Communications needs. Some of the key attributes that you can use to define an audience are department, role, location, and seniority.
Through a customization project, you can tailor your portal or intranet to set up these audiences and target any content you see fit, from news, articles, resources, videos, or notifications, through your digital platform.
2. It helps HR / Internal Communications to prioritize what matters
Showcasing every piece of content you have in your main banner or carousel is today's equivalent of screaming all the time. Your portal and intranet should be able to provide you with different spaces and locations to promote internal campaigns and even ads, or communications "real state", as we like to call it. When you leverage different spaces and create a catalog of portal locations, your Internal Communication team can prioritize content and promote content in more strategic ways; for example, a small, correctly placed ad on your front-line worker's portal homepage. Remember, we are aiming for the long run: understanding, engaging, and promoting action takes time, constant effort, thoroughness, and strategy.
3. It gives you the power to create targeted campaigns
Through attributes and roles, an Internal Communications team can create a campaign that specific audiences will only see. For example: Recommendations on Covid-19 protocol for traveling employees. This content can be promoted exclusively for employees that travel abroad, such as the Sales department, the Marketing department, and the R&D department. The more relevant the content is for that audience, the more likely it will be consumed and successfully promote action. Moreover, it can be supported with additional resources, such as videos, training, surveys, forms, or automated reminders, that can expand the reach of your campaign.
4. It keeps your employees and workforce engaged
With hectic schedules and ever-growing demands, having the time to find what you need to work better is scarce. Employees and associates rarely take the time to search and browse, but rather go in "ask and resolve" mode first. With a hyper-personalized approach that creates a relevant homepage and/or important notifications for your audience, you build a connection of trust with your employee: your portal or intranet now recommends content, attends to them, and saves them time. Creating a personalized digital experience for your employees is not an easy task; however, when done properly, it directly supports their needs and increases satisfaction and loyalty to the company. The more positive the connection is with your business portal, the more engaged they are, resulting in better productivity.
5. It gives your analytics and insights a new depth on employee behavior
One important difference between deploying a campaign online and offline is that, in a digital channel, you can "see" how your audience interacts with your deployed campaign. Analytics is not exclusive to the Marketing team: understanding what your employee needs and what they find interesting and relevant, and even collecting the common search terms they use, can give you insight into how to improve overall communication. The hyper-personalization approach adds a layer of depth to portal and intranet analytics: by building audiences, you can see behavior in the different groups you define, the performance of targeted campaigns, and reviewing important KPIs such as outreach, time in content, bounce rate, engagement, opens, clicks and more.
Enterprise technology has grown tremendously in the last 5 years, especially for portals and intranets. Just as outreach programs now use cookies and re-marketing techniques to increase engagement with audiences, portals, and intranets now have hyper-personalization to boost promotion. With hyper-personalization, you ensure that your workforce receives updates, efforts, and directions and turns knowledge into action. For companies and organizations of all sizes, it is important to understand that our world is constantly changing.
Being able to connect fast and efficiently with the team is the basis for building responsive organizations. Digital Experience Platforms (DXPs) provide modern functionality and capabilities that can set the foundation for many integral processes, including an effective, action-oriented Internal Communications approach through an employee portal. Check our case studies, with companies like UPS and its front-line communication challenges or KFC and its intranet that focuses on franchises and restaurant management. Reach out to us if you want to know how to apply this to your business—we are here to help your message come across.