Three Keys to Agile and Rapid Digital Transformation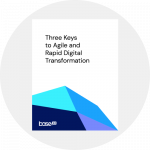 For growing organizations, taking care of customer satisfaction has always been the foundation for scaling, repurchasing, and pushing multiple orders. In this whitepaper we review how digital experiences shape enterprise digital channels and a proven approach to agile Digital Transformation.
Download this whitepaper to learn:
10 Rules of a Good Digital Customer Experience
How to deliver a intuitive, seamless digital experience in months, not in years
Key components of modern digital experiences for large organizations and enterprises
We value your privacy. By submitting this form, you confirm that you agree to the storing and processing of your personal data by Base22 as described in the Base22 
Privacy Policy
. This site is also protected by reCAPTCHA and the Google
Privacy Policy
and
Terms of Service
apply.