Portals have multiple forms and implementations depending on how they support a business model and its audiences: there are customer portals, enterprise portals, employee portals, vendor portals, dealership portals, and many others. Among them, we find global portals, an interesting solution for companies with many internal audiences and groups. But what exactly are they? And how are they different from "common" portals?
The answer is not that simple. Having a "global" solution is not about the size of the workforce or the type of technology. Global portals are large-scale digital solutions that consolidate communication and processes for a company. They are often supported by Digital Experience Platform (DXP) functionality. While the essence of a "local" intranet is still there, the challenges they face are completely different.
Recently we shared some insights for success when designing and building global employee portals. This time, we want to go back to the basics. Here are the main characteristics of a global portal and the key differences between it and a regular portal.
1. Global portals deal with multiple regions but also brands and lines of business.
Let's start with a keyword: "Global." The word "global" in global portals is not limited to multiple regions or countries. It covers multiple elements within a company's internal structure.
For example:
Multiple brands
Multiple lines of business
Multiple sites
Multiple business units
Multiple vendors or suppliers
It can also include multiple companies or legal instances, such as recent acquisitions or business units.
"Sharing globally" in this context means creating company policies to share something across all groups. Sometimes, those policies need to be created. Sometimes, those policies are already in place—the same policy that allows managers to share information in a store. Then, it's more a matter of laying out the specifics and transforming them into rules for the portal that any content author can follow.
In the case of global employee portals, they usually require a more comprehensive solution than common employee sites. During our 15+ years of experience as a firm, we have seen cases where a company operates in only one country but has enough data partitions to require a global solution. We have found that the complexity of the internal audiences' needs is what calls for a systematic approach. For example, there are companies that have the need to communicate a campaign with a specific group (like an internal marketing campaign shared with the teams involved with a specific brand), and also need the capability to communicate a campaign globally (across brands of the same portfolio).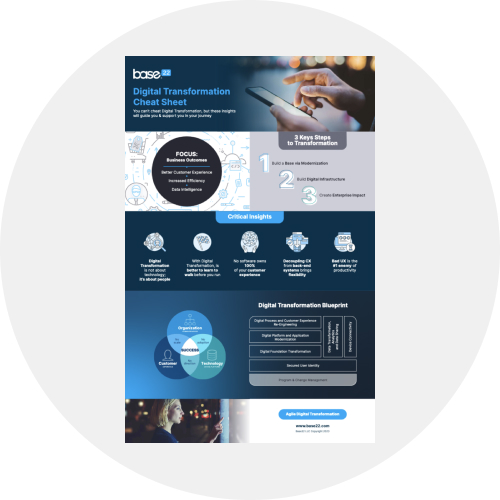 Digital Transformation Cheat Sheet
Dive into our Digital Transformation insights and learnings—all in one page.
Free Download
2. Organizational structure is not the same as internal audiences.
Governance is often the most important concept for global portals. In this context, there are two complementing sides:
understanding the needs of a group (such as the HR department of the US) and
identifying the internal audience of that group (such as employees in the US).
Groups and internal audiences should be based on their communication needs and not be limited by the organizational structure. For example, a company can have a department comprised of different groups with unique communication demands, such as an HR department that manages both HR staff and Internal Communications staff.
Understanding needs and user attributes, executing a deep analysis of the organization structure, and setting up an organizing principle that prioritizes communication are the foundations of an effective solution: a digital channel that delivers relevant content to the audience that needs to consume it at the moment they need to.
3. Global portals need governance by design.
The framework for establishing governance in global portals comes from Information Architecture. Once internal audiences are defined, a Digital Experience Platform can bring them to life, leveraging functionality such as:
content architecture,
user attributes,
workflow design,
creation of taxonomies and metadata,
and tagging and managing resources.
By following the requirements of your business model and audiences and embedding them into the design of the solution, your team will be able to publish, manage, and target audiences with agility and accuracy.
Having governance by design and supported by Information Architecture elements is essential for global portals because communication needs to flow from top-to-bottom and bottom-to-top as well as horizontally (think from manager to manager). It needs to cover all relevant groups and their internal audiences. More importantly, it needs to be flexible.
Companies and organizations are very dynamic: they often deal with internal restructuring, mergers, and acquisitions. Certain business models, such as dealerships, can add complexity with criteria like contracts—dealers that provide different services, which adds exponential variations to the types of content and resources they should have. That is why building a solution that has the capability to adjust and grow is critical. A successful portal for the short and the long term needs the tools and enough flexibility to manage content and audiences at a large scale.
4. Thousands of resources, systems, and applications = more integration needs to resolve
When dealing with multiple regions and lines of business, there are always localized administrative processes. That reflects having different payroll systems, technologies, ERPs, and HR processes. Each country may have its own rules, legalities, and compliance standards for managing its workforce, as well.
Global portals have an increasing need to integrate multiple systems and applications in order to work together. But creating and designing digital solutions that enable the company to leverage this rich data is where the real value is. It's a "tree falls in the forest" situation. If the data collected isn't reviewed and utilized by anyone from a global point of view, does it really mean anything? Food for thought.
5. Global portals are multilingual and workflow-powered.
With global portals, multiple languages are used to manage content across different regions, countries, and sites. Portals can go as far as managing content in over 40 languages, meaning they have dedicated authors and teams to curate and translate content for their main regions.
From a content perspective, using a language that is common and familiar to workforce and collaborators is key to improving engagement. "Language bridges" like English or neutral Spanish must be set to work together in shared goals and tasks. They act as a "lingua franca" for general content—and when to favor them instead of a common language is one of the topics for portal governance.
From a technical point of view, Digital Experience Platforms are software with great functionality to support content management in multiple languages. Their workflows can automate translations and editing processes improve oversight with content authors. By providing the internal process structure and UI components for language switch, DXP support and drive global portals to be a powerful digital solution.
6. Growing with a global portal is natural, but being consistent requires strategy.
Creating and publishing new content and translations in a global intranet is an everyday task. Global employee portals such as UPS's or CNHi's usually employ many content authors and translators—some projects have centralized teams of over 100 people—dedicated to bringing relevant content to the surface and targeting audiences with them.
With global intranets, there's always something new to communicate, so growing is not an issue. However, when you have an expanded team of content authors and departments trying to keep up with daily needs, it is easy to be inconsistent.
Examples of common inconsistencies in global portals are:
creating new pages with layout variations that aren't approved,
skipping metadata fields to publish faster,
and generating new formats for forms or pages that don't comply with branding guidelines.
That's why design systems are so relevant for this type of robust digital solutions. Depending on your organization's needs, a single platform can provide portals, websites or microsites (public or private). Having a defined set of layouts, widgets, components, and templates for your global portal not only makes it easier to create content (and stop worrying about design) but also makes sure that your audiences' experience isn't affected. Moreover, they reduce support from the IT team, making publishing and editing more agile for your collaborators. In other words, global portals can thrive because of design systems—they enhance and improve alignment while reducing effort.
Interested in Global Portals? Next steps
Building a business portal requires a strategy, a roadmap, and specialized tools, for sure. But when building a global intranet, there's a strong need for clarity, alignment, and scalability.
According to Gallup, employee engagement suffered significantly from 2021 to 2022, by a combination of factors that included an increasing number of employees not connecting to the mission of the company while also not feeling they have the right materials and equipment to do their job. If one of your goals for this year is to improve your company's employee experience, a global employee portal can strengthen your digital workplace by connecting better with your workforce and by bringing the applications and services they need into a single channel.
At Base22, we love portal and intranet projects. We have over 15 years of experience as well as tools and knowledge that can help your organization avoid costly pitfalls. Contact us if you have an upcoming global portal project, whether it is a redesign, a migration, an upgrade or just launching a new solution. Let's start building a robust, tailored solution—with global impact—for your company today.
Transform your Employee Experience with Agility
Our modern solutions deliver tailored experiences and automated workflows for thousands of employees across the globe.
Learn more