In the ever-changing digital landscape, adaptability has become the new norm for businesses striving to stay ahead in today's fast-paced market.
In this context, the MACH approach has emerged as a powerful and agile framework that enables companies to adapt quickly and effortlessly to changing business needs.
With unrivaled flexibility, speed, and scalability, MACH principles are reshaping the digital landscape. But a crucial question remains: where to start?
This article will guide you through the MACH principles, helping you understand its potential benefits and identify whether it aligns with your business objectives. Let's delve into essential signs that indicate your business might be ready to embrace the MACH approach and pave the way to know where to begin.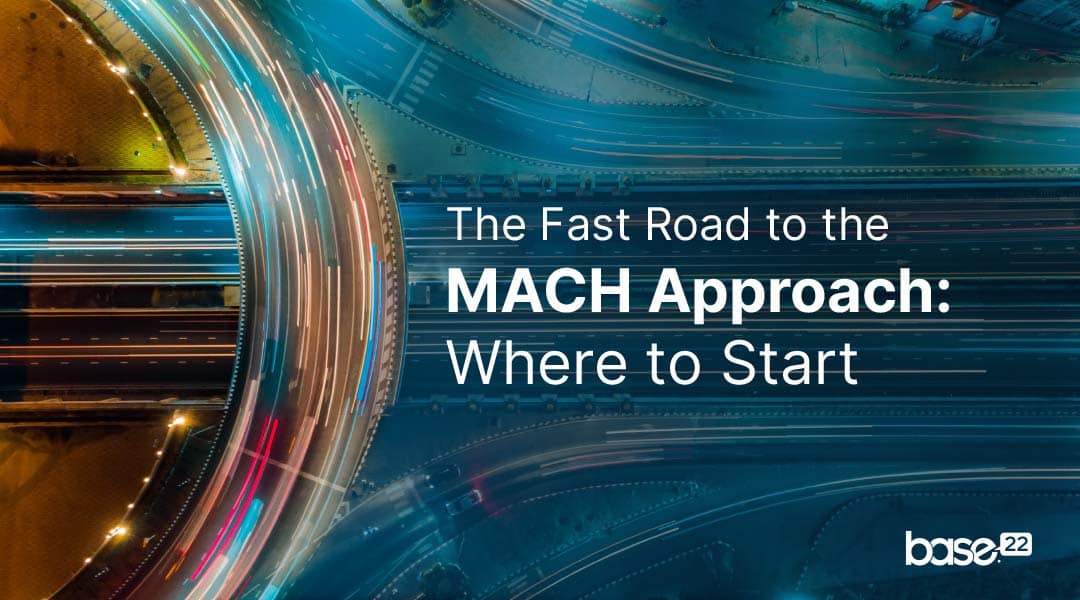 Understanding MACH Approach
The digital landscape is ever-evolving. As technologies advance, businesses need to adapt and innovate to stay ahead. One such innovation that has been gaining traction recently is the MACH approach. But what exactly is it, and is it something you should consider incorporating into your technology roadmap?
MACH stands for Microservices-based, API-first, Cloud-native, and Headless. It provides an agile, scalable and secure framework for developing and deploying digital experiences. By leveraging a MACH architecture, businesses can construct agile technology stacks tailored to their unique requirements, ensuring adaptability to evolving market conditions. 
Key Drivers of MACH Adoption
Several factors are driving businesses to adopt a MACH approach:
Agility: Microservices-based architecture enables businesses to develop and deploy new features and functionalities rapidly. This is particularly beneficial for organizations that need to adapt quickly to changing customer needs or market conditions.
Scalability: MACH is highly scalable, allowing companies to quickly scale their operations up or down in response to changes in demand.
Security: MACH is designed with security in mind, protecting sensitive data from unauthorized access. It employs encryption and authentication measures that instill confidence in customers regarding their data safety.
Cost-effectiveness: By leveraging open-source technologies and cloud-based solutions, a MACH approach can help businesses significantly reduce their development, deployment, and maintenance costs.
Seamless Integration: MACH principles support seamless integration across multiple channels. Headless systems allow businesses to deliver consistent experiences across all customer touchpoints, from websites and mobile apps to social media platforms and in-store interfaces. And if businesses require other platforms like PIM, ERP, and CMS, they can be connected seamlessly via APIs.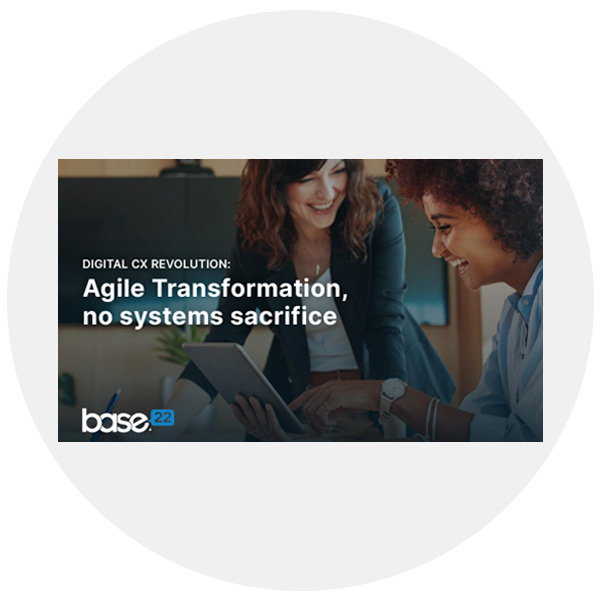 Digital CX Revolution: Agile Transformation
Check out our booklet on achieving Agile Transformation without replacing your existing systems.
Download
MACH Principles in Your Technology Roadmap
Over 85% of businesses will adopt a Cloud-first principle by 2025, according to Gartner. The decision to adopt MACH architecture should be based on your current and future business needs. Consider MACH if:
Your current digital infrastructure is hampering your company's growth or responsiveness
You aim to enhance the customer experiences for multiple audiences
You're looking to lower the total cost of ownership and increase ROI
You plan to improve your digital ecosystem for future integrations and projects
You strive to surpass your competitors
You want your digital ecosystem to be more flexible and agile
The MACH Approach: Where to Start
As we have discussed before in this blog, building a responsive and agile digital infrastructure requires building digital muscles. The first step in this process is building a base via modernization. There are multiple ways to do it. In our experience, using a Digital Experience Platform (DXP) can help you build this base while bringing acceleration to your journey to a MACH adoption.
A DXP can act as the core of your business model, tailored to meet your company's specific needs, no matter how complex. They manage access to systems and applications and deliver personalized customer journeys. They can integrate and leverage existing enterprise and Software as a Service (SaaS) systems without requiring significant modifications while protecting data and ensuring the safe operation of the system. DXPs directly address the core requirements of MACH – agility, scalability, security, cost-effectiveness, and integration.
DXPs not only provide a solid foundation for your MACH architecture but also play a critical role in the business by enabling agile development and delivery of audience-specific solutions:
For customers, a DXP can provide self-service touchpoints.
For employees, it can automate processes and systems access or provide an efficient self-service portal.
For operations, it can create supplier portals that provide visibility into demand planning, logistics, and release schedules.
Implementing MACH architecture with the right DXP at its core ensures that your business model is resilient and adaptable. Whether you operate in e-commerce, manufacturing, healthcare, finance, or any other industry, this approach guarantees a solid foundation for growth and innovation.
 see MACH as the future of digital architecture because of its flexibility and agility
The Role of DXP within a MACH Approach
DXPs play a crucial role in the implementation of MACH principles and can add important agility to your transformation journey.
This is how Digital Experience Platforms support each pillar:
Microservices: DXPs support a microservices architecture and are built using this approach. Unlike monolithic applications, each DXP functionality (such as personalization or content management) works independently from the others. In addition, the microservices architecture enables rapid deployment of new applications and scaling.
API: DXPs provide a unified platform that allows seamless real-time integration across different systems and services. They facilitate integration through APIs, which enable communication and data exchange between systems. Some platforms include tools such as API managers and pre-built connectors to well-known software.
Cloud: Most DXPs can be implemented in the Cloud, with Private and Self-managed options. They can include powerful capabilities such as autoscaling, performance monitoring, and robust disaster recovery processes.
Headless: Modern digital experience platforms are headless, and allow integration with content and resources via RESTful APIs. With this approach, you can build seamless customer experiences across devices and platforms while centralizing all your content from the DXP.
Incorporating a DXP into your MACH architecture can significantly accelerate the modernization of your digital infrastructure, laying the foundation for more complex digital projects and providing immediate gains to help fund future investments.
Taking the First Steps towards MACH Technologies and Architecture
When evaluating the MACH architecture's suitability, consider the business's unique demands and needs.
A MACH adoption requires careful planning, consideration, and the involvement of various stakeholders within your organization.
Every company has a different digital infrastructure setup and needs, so there's no standard road for implementing MACH. The journey can be challenging since it is tied to Digital Transformation and requires advanced technical knowledge and business acumen to implement successfully. It requires teams and leadership to see technology and infrastructure through a different lens.
Here are some considerations and tasks that should be included in your planning phase.
MACH Adoption: Initial Phase and Considerations
Start by evaluating your current technology landscape, including existing software, systems, processes, and architecture.
Identify pain points and limitations in your current setup that hinder flexibility and scalability.
Define your business outcomes and goals for adopting MACH architecture, both on the front-end and back-end.
Outline how integrating MACH aligns with your long-term business vision.
Ensure that key decision-makers and stakeholders in your organization understand the benefits and implications of MACH adoption.
Identify risks, such as legacy applications and systems that will require extra technical support, plan for MACH integration challenges, and adapt processes, roles, and workflows.
Select an experienced partner such as Base22 to support you in your journey.
Although these considerations are general, they are a good starting point to provide you with a clearer perspective to determine the MACH approach and its implementation.
Adopting a MACH architecture offers many advantages, like flexibility, agility, and scalability, but it is not a one-size-fits-all solution. Its implementation may bring particular challenges for the business, mainly if a careful evaluation is not performed before shifting to a MACH. For example, Cloud service models require advanced analyses and strategies to truly be more cost-effective. According to a report by Boston Consulting Group, digital leaders that optimize Cloud spending can achieve 2x to 3x more cost efficiency and savings than those who aren't as thorough.
Companies must evaluate their technical and business needs and weigh the benefits of adopting MACH against the costs and tradeoffs involved.
Benefits of the MACH Approach: Why Your Company Should Implement This Framework
The MACH approach is not just a technological shift; it's a strategic move toward enhancing the customer experience (CX). By adopting MACH architecture, businesses can transform their CX in several ways:
Omnichannel Customer Experience: MACH facilitates an omnichannel approach, enabling businesses to engage with their customers, employees, and partners across various digital touchpoints.
Personalization: With a MACH approach, businesses can gather and analyze user data, gaining valuable insights into customer, employee, and partner behavior. This empowers them to customize their offerings, meeting their customers' specific needs with precision.
Speed and Flexibility: MACH architecture's agility and scalability enable businesses to respond quickly to changing customer, employee, and partner needs, thereby improving the overall CX.
Ultimately, MACH can help businesses provide a superior, seamless, and personalized CX, leading to increased customer satisfaction and loyalty.
Final Thoughts: MACH is an Accelerator of your Digital Journey
No software owns 100% of your customer experience. As companies strive to be more flexible, adaptable, and customer-centric, traditional enterprise software packages are becoming less viable for meeting both current and future customer requirements. Instead, embracing solutions that cater to present and future customer needs becomes imperative.
MACH architecture makes it easy to add, replace, or remove technologies that may become irrelevant and insufficient for businesses and consumer needs in the future by allowing flexible and agile workflows. In fact, 80% of key decision-makers see MACH as the future of digital architecture because of its flexibility and agility.
Remember that MACH adoption is not a one-time project but an ongoing process. It is the foundation to becoming a Digital-First company: envisioning customer experiences supported by technology, not the other way around. It requires a commitment to continuous improvement and agility as technology and business needs evolve over time.
If you're considering adopting a MACH architecture and need an experienced partner to guide you throughout the process –from evaluating and planning the steps of this approach for your particular infrastructure needs, to ensuring a seamless and successful shift to MACH– reach out to us. Let's start building your future today.
Digital Infrastructure & Integration Planning
Need help with your technology roadmap? Partner with us for your digital infrastructure needs.
Learn more