Wholesale is the ideal beneficiary for tailored technology solutions among B2B business models. It has complexity, large-scale transactions, elaborate product information, and a lot of need for on-demand transparency of inventory and delivery. While the benefits of B2B wholesale platforms and digital solutions are clear in terms of driving actions and sales—McKinsey called omnichannel the new standard a couple of years ago—the focus on digital experiences and user journeys is relatively new. How can digital solutions and platforms support B2B sales and set the grounds for business growth?
With the rise of D2C in the last years and overall challenges with supply chain disruption, B2B buyer experiences need to be as sophisticated as B2C experiences. Some of the audiences around B2B wholesale companies that could benefit from digital experiences include…
B2B customers (meaning retailers, government agencies, manufacturers, and other types of companies)
internal sales and marketing teams,
partners,
wholesale distributors, and
agents and brokers.
The need to provide engagement and connections besides transactions and payment is everywhere, but how can you achieve this? Here are our insights into some of the most common types of B2B wholesale digital solutions:
Continue reading to know more about their strengths and limitations related to overall B2B digital experiences.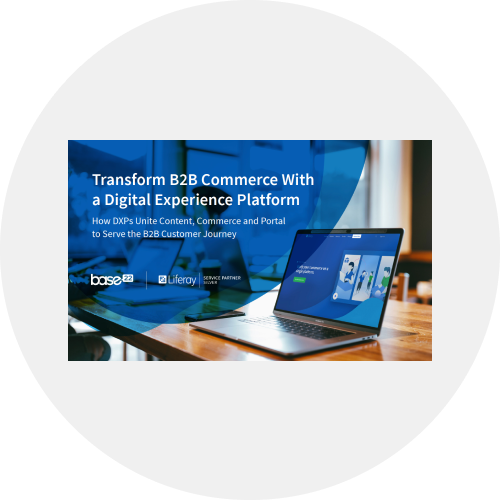 Transform B2B Commerce with a DXP
To stay competitive, companies must move beyond siloed commerce functionality. Learn how Digital Experience Platforms support your full B2B customer journey.
Learn more
1. B2B Wholesale eCommerce Platforms: 100% action, limited CX
eCommerce software and platforms are the go-to solutions for many B2B companies that are looking to digitize their sales processes. In a recent report, Forrester estimated that B2B e-commerce in the US will reach $3 trillion USD by 2027 and account for 24% of total B2B sales.
B2B Wholesale eCommerce Platforms: Strengths
Let's talk specifics. How can an eCommerce platform support a wholesale business model?
They focus primarily on product catalogs and enabling payments and orders. This makes them mostly transaction-oriented, which can provide scalability and value relatively quickly.
They allow content authors and product managers to update, publish, and remove product content and materials with agility.
They can offer a great digital customer experience when browsing products and reviewing specifications.
Many offerings include an omnichannel approach for B2B companies, including responsive design or mobile app support.
Some offerings have Cloud self-managed options, which reduces dependency on IT teams.
B2B Wholesale eCommerce Platforms: Other considerations
eCommerce platforms usually fall short in three aspects:
They don't focus on knowledge management or don't have the flexibility to offer pre-sales or post-sales touchpoints, such as calculators, appointment booking, sales enablement training, or marketing materials.
While many eCommerce platforms offer product recommendations and related purchase information, the overall digital experience remains the same. If your wholesale company deals with distributors that work in different industries (retailers vs. manufacturers) or work with different brands, you may need to offer specific information or marketing materials tailored for them.
eCommerce platforms don't usually have communication features such as spaces of collaboration, social networks, blogs, forums, or interactive forms for targeted audiences.
The need for personalized content is 20 to 30% higher in B2B companies than in B2C, according to a recent report from Forrester & Adobe. And it gets stronger as you move through the last stages of the B2B journey. While eCommerce makes sure that things happen at a critical moment, ensuring that your audiences have touchpoints and channels to connect with your company through a complementary portal or platform makes sales engagement effective and successful in the long run. 
higher is the need for personalized content in B2B companies than in B2C
2. B2B Wholesale Portal: Powerful customer experience
Unlike eCommerce, B2B portals are strong when it comes to knowledge management capabilities. They can be tailored to your model such as wholesale and support your business outcomes, such as increasing recurring orders, improving efficiency, driving engagement, or offering a personalized B2B customer experience. There are also different types of solutions you can build with a portal depending on your needs, such as B2B Wholesale Portal, B2B Customer Portals, B2B Distributor portals, or even Supplier portals.
B2B Wholesale Portal: Strengths
How can a B2B portal give a rich experience to wholesale companies, distributors and/or partners?
They can deliver personalized experiences to multiple audiences, such as wholesale distributors that are across countries or from different industries.
They can offer a robust knowledge base of frequently asked questions and best practices so users can find answers faster.
They can provide secure online access to sensitive documents such as contracts, invoices, and product guarantees for existing users and accounts.
They can integrate with other platforms, such as LMS and CRM, to automate payments, lead routing, MDF workflows, compliance, and training.
They can integrate your back-end systems or B2B sales software to include self-service processes, transactions, and payments.
They can be tailored to your business model, and specific business needs with the support of an experienced partner like Base22.
In sum, a B2B Wholesale Portal enables your company to target campaigns, resources, or overall content to your specific audiences, so they only focus on relevant information to their business goals. It is an integrated solution that provides great CX and effective touchpoints for recurring users and existing accounts.
B2B Wholesale Portal: Other considerations
One critical aspect of B2B Wholesale Portals is data collection. While B2B Wholesale eCommerce gives insight into what SKUs your customers are interested in, a portal allows you to understand their behavior on a deeper level: what information they require to make a decision, common issues or interests, and which touchpoints offer more value. This is particularly useful if you are considering implementing a portal for your customers.
Today, 71% of customer experience leaders leverage real-time access to omnichannel customer data, per the Forrester & Adobe report mentioned above. By collecting B2B sales data, you can design and implement better user journeys and support your sales team to success.
A Tailored Solution for your Business Model
Our B2B Customer & Distributor Solution creates superior digital experiences and drives adoption of your digital sales channels.
Learn more
3. B2B Wholesale Platform: The best approach for multiple channels
Digital platforms are different from the other solutions listed in this article. Rather than being a single product, platforms offer flexibility, tools, and capabilities to enable teams to build and manage multiple solutions for a specific business model, such as wholesale. They provide stability, security, and powerful functionality which makes them the perfect backbone for digital B2B ecosystems, supporting both customer experience and internal operations.
B2B Wholesale Platform: Strengths
How can a digital platform support wholesale companies and their goals?
They can help you build B2B Wholesale Portals, distributor portals, B2B Customer portals, mobile apps, B2B marketplaces, and websites from a single platform. With a headless approach, you can centralize content from all your channels and easily make updates from the digital platform.  
They provide powerful content authoring functionality that is easy to use, complemented with interactive forms, blogs, surveys, and other tools that come out-of-the-box.
Platforms can build and manage B2B portals and mobile apps that offer personalization to multiple audiences. They are highly recommended for growing companies or companies with multiple brands and business units.
With our proven approach, they can leverage design systems that help you build sites and pages with agility while complying with branding guidelines.  
They can integrate multiple systems—from applications, ERPs and CRMs to legacy systems—and provide a consistent, modern customer experience across them.
B2B wholesale platforms are critical for omnichannel strategies and building a modern MACH architecture. They provide the best of two worlds: a rich customer experience through a modern look-and-feel, and powerful integration capabilities, so you can integrate any B2B business software to provide an additional layer of information such as integrating SAP to show inventory status.
B2B Wholesale Platform: Other considerations
Depending on your requirements, you can implement a digital platform on-premise, via private Cloud, or with Cloud self-managed option such as Liferay Experience Cloud. The last option is ideal for those with smaller IT teams looking to reduce technical dependency, and that want to focus on their business audiences.  
4. B2B Wholesale Mobile App: Direct but effective
Mobile apps are here to stay, and the B2B wholesale sector is no exception. McKinsey estimated that mobile app ordering in B2B companies increased by 250% because of the Covid pandemic. In addition to the increasing role of mobile apps in B2B, there's also an expected increase in hybrid roles for B2B sales: combining digital and in-person touchpoints during the sales process.
B2B Wholesale Mobile App: Strengths
How can a mobile app support wholesale companies and their goals?
They offer great customer experience with simple and direct user journeys that are transaction-oriented and drive customers towards action.
They are key for modern in-person and hybrid touchpoints. B2B wholesale apps can offer great support to sales reps and distributors in the field, such as creating orders or reviewing inventory when talking to a client.
They provide 1-1 communication with your audiences through push notifications and real-time alerts.
Native apps can leverage smartphone functionality such as bar-code scanning through the camera.  
B2B Wholesale Mobile App: Other considerations
Mobile apps for wholesale companies usually fall short in these aspects:
Mobile apps are usually complementary to other B2B sales channels. They may not be ideal to centralize all your operations and communications.
They need to be carefully designed to focus on your business goals and audiences with the right touchpoints and user journeys. Processes such as handling complex transactions that require a lot of back and forth could impact adoption rates.
Because there are many smartphone devices available, it is important to consider the right implementation approach: native app, PWA, or hybrid app. If you are planning to deploy a native app, they require dedicated efforts and a specialized team, and may impact your agility to update and manage content.
in mobile app ordering in B2B companies because of the Covid pandemic
5. B2B Wholesale Website: Planting rather than harvesting
B2B websites are almost as important as having dedicated reps and agents for the B2B buying journey, according to Gartner. And they are also the digital solution that's more agile in terms of management and deployment. Because they are often one-way communication and managed by dedicated teams such as Marketing departments, they don't struggle with adoption challenges and can focus on driving sales with relatively low effort.
B2B Wholesale Website: Strengths
How can a website support wholesale companies and their goals?
They can drive Marketing efforts, such as introducing a new brand, promoting an external campaign to promote a product or service, or capturing traffic through paid media campaigns and SEO content.
When implemented with a CMS or a digital platform, they are easy to update and make UI/UX adjustments.
If they are information-oriented, the cost of building and maintaining is relatively low and manageable.
According to a report by FocusVision, B2B buyers consume on average 13 pieces of content to make a decision, being the vendor website the most common source for this content.
B2B Wholesale Website: Other considerations
While implementing a website is a low-risk decision, the important question lies in how it relates to your business outcomes. Some of the things you need to consider regarding B2B websites:
They focus on new users, not recurring ones. Websites are mostly focused on driving campaigns to acquire new customers, rather than supporting existing accounts and recurring orders.
They usually lack personalization. They offer information or marketing materials from the perspective of the product or service. They can't target content to specific user attributes such as industry or interest.
All the information shared is public. There's no room for sensitive documents such as quotes, contracts, and invoices. Some CMSs offer authenticated spaces for their users; however, security requirements need to be carefully evaluated.  
In sum, B2B wholesale websites are great for external audiences and marketing. However, they may not be the best fit if you need to support internal processes and operations or target existing customers to drive revenue.
average consumed by B2B buyers before making a decision
6. B2B Wholesale Software: Critical yet painful
ERPs, CRMs, and PIMs are among the common B2B whole software that can also help wholesale companies to strengthen their sales and growth. They are mostly transactional and action-oriented. Best-of-breed software is still critical to run smooth operations and business processes, but when it comes to scalability, responsiveness, or increasing CX, there might be important challenges with those that are categorized as legacy. 
ERPs, CRMs, and PIMs have their strength in internal operations and digitizing business processes. In contrast, they usually offer subpar customer experience for both users and the end-user. In particular, legacy ERPs may require a lot of effort, budget, and specialized talent to make integrations or modifications in the slightest way. Many ERPs are monolithic, which thwarts agility and potential around a digital ecosystem. They also increase risks in business continuity whenever there are technical issues.
While replacing them is not an option for many companies, you can always integrate them and leverage their data through a digital platform—a B2B Wholesale platform—to ensure you meet the increasing omnichannel expectations for B2B companies.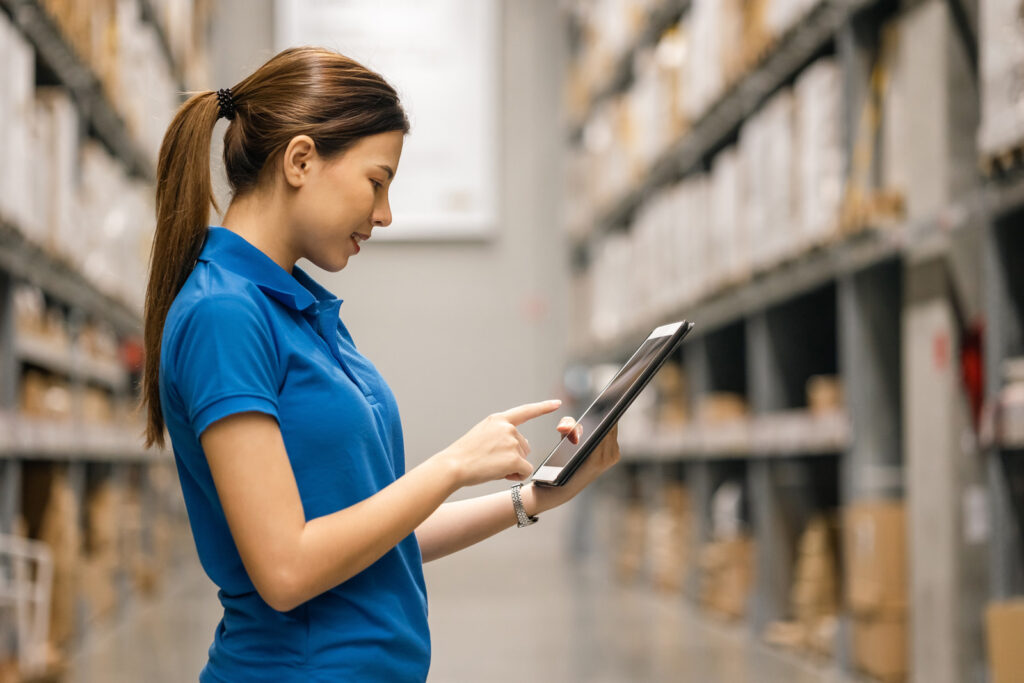 Final Thoughts: Finding the Right B2B Wholesale Platform or Solution for Your Business Outcomes
B2B relies heavily on recurring buyers, and wholesale is no exception. To target business growth in their digital channels, wholesale companies require solutions that offer scalability, precision, and efficiency; in other words, a unique combination of powerful technical and communication capabilities across all their digital channels.
For B2B wholesale companies, providing personalized campaigns, information or touchpoints matters a lot—especially if it's complimenting ABM efforts for upselling or cross-selling. That's why having a single "one-size-fits-all" experience may limit or hurt your sales in the end—from the perspective of an opportunity cost. Just as a sales rep cannot use canned speech with their clients, a company should not provide a static, generic experience to target all its users.
If providing exceptional CX and satisfaction to increase loyalty is among your goals, B2B Wholesale Portals and B2B Wholesale Platforms with an integrated approach may offer the greatest benefits in the short term. With an agile and proven strategy such as Base22's approach, you can transform your distributor or B2B customer communications within months and focus on scaling, exploring your growth potential with agility while reducing risks.
No matter the solutions you choose, your technology roadmap should consider the strategy towards a responsive, integrated digital ecosystem, leveraging MACH architecture for an omnichannel B2B Commerce approach. Wholesale companies bring together a combination of factors that makes them the ideal scenario for leveraging modern B2B technology, generating better margins, and scaling profitability. Let an experienced firm like Base22 help you in your transformation journey.