Business Audiences: Communication Drives Productivity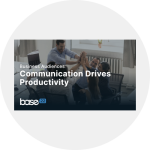 Today being successful in Digital Transformation means enabling your business audience with technology. With the rise of inflationary pressures and remote work, engaging with customers, employees, and business partners alike has become essential for business continuity. 
Download this booklet to learn:
What does "Business audience" mean and how it apply to your company 
Current Digital Transformation challenges of business audiences 
Guiding questions to understand better your business audiences' needs in digital channels
We value your privacy. By submitting this form, you confirm that you agree to the storing and processing of your personal data by Base22 as described in the Base22 
Privacy Policy
. This site is also protected by reCAPTCHA and the Google
Privacy Policy
and
Terms of Service
apply.