Digital CX Revolution: Agile Transformation, no systems sacrifice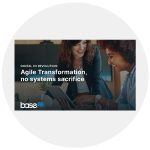 There's no single software that holds all the information and processes related to digital customer experience (CX). So how can your company avoid delivering disjointed or fragmented experiences? Here are the key steps to improving your digital CX and delivering digital experiences without sacrifice—and avoiding rip-and-replace of your systems.
Download our booklet to learn:
The importance of Customer Experience (CX) in Digital Transformation
How to deliver a modern CX 

leveraging back-office investments

Digital Experience Platforms and their benefits
We value your privacy. By submitting this form, you confirm that you agree to the storing and processing of your personal data by Base22 as described in the Base22 
Privacy Policy
. This site is also protected by reCAPTCHA and the Google
Privacy Policy
and
Terms of Service
apply.