Today's consumers are sophisticated. They can research, compare, and read positive and negative reviews about the product or service they intend to purchase.
Besides, customer expectations are higher than ever before—they aren't only looking for the product or service that meets their needs but also want a frictionless omnichannel experience.
The banking industry isn't immune to changing customer experience trends either.
With fewer financial services providers in the past, customers didn't have much choice. However, nowadays, they won't hesitate to switch to a solution that is easily accessible, serves their needs better, and provides real-time support and personalized experience while ensuring data security.
Thus, as a bank, how can you stay relevant and tick all the boxes for your clients?
This article delves into five digital customer experience (CX) challenges and what they mean to your business. So, without further ado, let's jump right in!
Five Digital Customer Experience Challenges in Banking
Enhancing your customers' experience is about making it a focus and deeply understanding user pain points so that you can build robust functionality and processes within your banking business.
1. Not Allowing Users to Make Transactions 24/7
The truth is that banking users want to send money instantly and easily, using one of many channels: the web, the smartphone, or a digital wallet. In fact, real-time domestic and international transactions are a new standard for banks.
However, despite rapid technological advancements, account-to-account payments appear to be still trapped in the past.
Paying bills or transferring money to friends and family should be an operation of just a few clicks. Therefore, banks that fail to provide such ease create fiction for their customers and will likely lose their loyalty in the long run.
2. Failing to Implement Mobile-Friendly Digital Solutions
Mobile phones are an appendage for individuals that they use for work, studies, leisure, and day-to-day banking. One study found that 55% of users prefer banking via a smartphone app, implying the ever-growing demand for mobile-friendly digital solutions.
Busy customers want the convenience that comes with mobile banking. They want to perform essential activities, such as checking balances, paying bills, depositing checks, budgeting, tracking expenditures, or even applying for loans or mortgages—all without going to the physical branch.
Banks looking to enhance the CX must step up the game by implementing mobile-friendly banking solutions designed for user experience rather than being smartphone-optimized. In other words, financial service providers need to focus on offering an intuitive, functional, and hassle-free interface so people don't abandon it out of frustration.
3. Having a Portal and an App That Offer Diverging Digital CX
This leads us to the following challenge related to the lack of consistency in CX across the banking portal and the app. Bank websites are predominantly easier to fit with various features, allowing users to perform numerous functions. Still, apps cannot fall behind, as they're customers' preferred way of navigating banking services.
89% of customers are more likely to stick with a company that provides a unified experience. Therefore, no matter how your clients engage with your business, a successful omnichannel strategy requires a consistent, highly intuitive digital user experience across all customer touchpoints.
4. Using In-House Technology That Does Not Meet Security Standards
Banking customers want all the convenience of digital transformation without sacrificing the security of their financial information.
Unfortunately, many financial institutions still depend on legacy systems, failing to unlock the potential and the ability to bolster operational efficiency and data security.
Relying on outdated technology while introducing modern solutions means continuously fragmented data architectures with weaker security credentials that can be easily exploited due to a lack of real-time updates.
76% of customers are ready to take their business elsewhere due to poor data handling practices. When it comes to financial information, fail-proof security standards are crucial for a positive and trust-based customer experience.
5. Not Adapting Interfaces to Suit All Audiences
Finally, great CX facilitates interactions that speak to how different consumer segments want to engage with your financial services business. Digital experiences should comprise elements of accessibility and intuitiveness regardless of the customer's age or use case. Is your business delivering on this?
Finance-savvy customers might not need myriads of explanations when performing simple banking functions, while others would greatly benefit from modal pop-up windows with easy instructions. No matter your customer, every IT decision must be centered around delivering solid CX.

Final Word
Investing in perfecting customer experience increases loyalty and rates of referrals while allowing you to build a future-proof business capable of withstanding volatility in the global retail banking market.
Individuals are now factoring in the digital customer experience when choosing their next banking services provider, so you must stay on top of your game.
At Base22, we have a deep understanding of digital customer experience matched with our unprecedented expertise in delivering digital transformation for future-focused financial organizations and banks. Are you ready to become our next success story?
Contact us today and let us add value to your business and customers.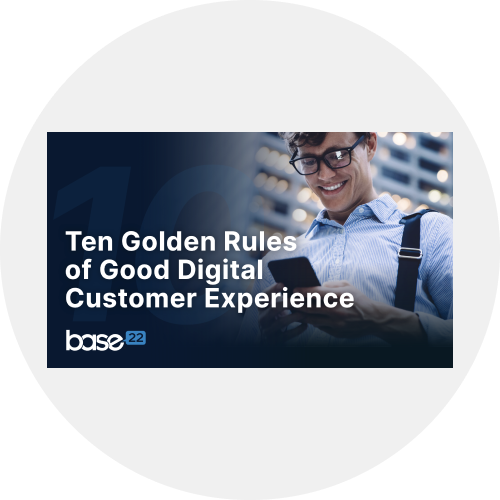 10 Golden Rules of Good Digital CX
Check out our booklet on Customer Experience for large and growing organizations.
Download