Ten Golden Rules
of Good Digital Customer Experience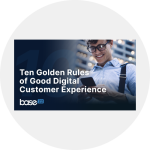 In today's world, audiences expect to have functional, intuitive services and the ability to buy products by just clicking or tapping a button. How we engage with users has become a must for growth, and if a company fails to do so, it's risking losing customers to competitors. 

Download this booklet to understand:
The essential characteristics to create good digital experiences
How omnichannel is key to achieving it?
How AI chat boxes negatively impact digital experiences
We value your privacy. By submitting this form, you confirm that you agree to the storing and processing of your personal data by Base22 as described in the Base22 
Privacy Policy
. This site is also protected by reCAPTCHA and the Google
Privacy Policy
and
Terms of Service
apply.