As the Digital Experiences Platform (DXP) market grows each year, many organizations are facing a common question: DXP or CMS? Which software is better to connect with business audiences and drive business outcomes?
Search Engine Journal calculates that 796 million sites are currently using some Content Management System (CMS), a trend that will continue to increase with time. With more sites adopting CMSs and the offering also rising, businesses must be ready and prepared to choose a system that can help them target business outcomes most efficiently.
To help you understand which software is better for your company, in this article, we will address the following topics:
a DXP vs CMS comparison;
a review their main features; and,
guiding questions to support your software and system evaluation process.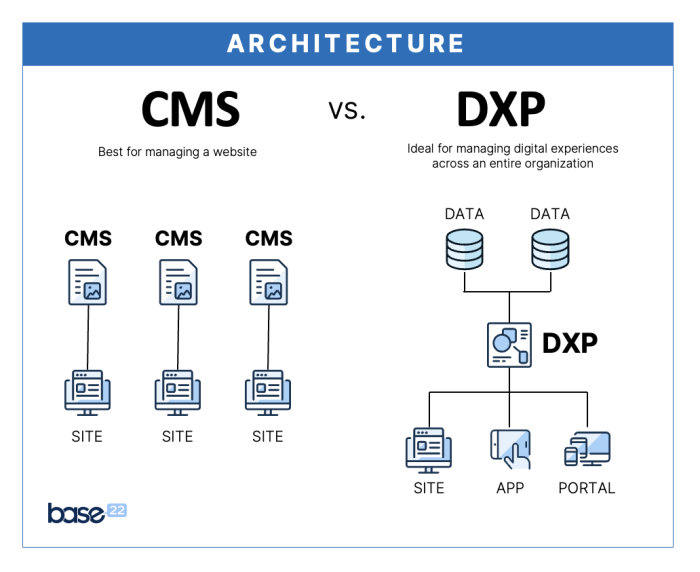 DXP vs CMS: Comparison and Features
What is a DXP – Digital Experience Platform
A Digital Experience Platform (DXP) is a robust software that can help you to build and manage digital experiences around your business model, such as consuming resources, purchasing products, creating accounts, or interacting with a brand.
With DXP's building capabilities, you can implement websites, portals, and mobile applications and create custom applications to cater digital experiences, content, and transactions to your internal and external audiences.
One platform can help you publish and manage content in multiple channels thanks to its Content Management Functionalities and, depending on the specific software, its headless approach. This includes public channels (such as a marketing website) and authenticated channels (such as a supplier portal or employee mobile app).
DXP Key Features
Some of the key features of a DXP include:
solutions, portal, and mobile app builders
themes and templates
widgets and reusable components
dashboards
users and audiences management
contact forms and surveys
document version control
automation workflows
Digital Asset Management
eCommerce platform
API integration
robust digital experience analytics
DXPs offer configurable automation workflows and powerful integrations with your existing tech stack: they can create portals that bring data and content from CRMs, ERPs, and financial systems. Also important, they support digital asset management, such as images, videos, multimedia, and documents, and can also provide interactive functionality like forms, surveys, blogs, comments, notifications, and calendars.
In a way, DXPs are like a sandbox. Their arsenal of features is solid, but the effort will always be on how to set them up and use them to fit your business model and engage your audiences.
The DXP architecture has no ingrained logic or patterns out of the box. They require consulting, configuration, implementation, and design projects to build robust solutions to drive your daily operations, such as a client portal, supplier portal, or employee mobile application. However, DXP partners such as Base22 can help companies with Liferay and HCL software to reduce implementation time with the help of UX accelerators and patterns.
DXP leaders include Liferay DXP, HCL DX, Adobe Experience Manager, Acquia, and Optimizely. Gartner's Magic Quadrant for Digital Experience Platforms is one of the most trusted sources to identify and rank new players in the market.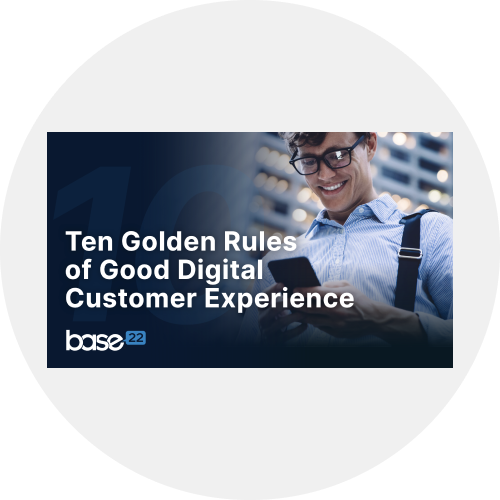 10 Golden Rules of Good Digital CX
Check out our booklet on Customer Experience for large and growing organizations.
Download
DXPs Pricing model
There are plenty of pricing options for DXPs. You can acquire a software license, purchase an annual subscription, or have a pricing per user session. With DXPs, you can find brand leaders that offer on-premise software, software that can be installed in your private Cloud, and platform-as-a-service and software-as-a-service models.
Most of the DXPs available have a pricing structure designed for businesses, starting from 10k annually and going up to 200k or more, depending on your specific configuration. While the price differs reasonably from a CMS, they comply with enterprise-level requirements, such as security, support SLAs, regular upgrades, and integration.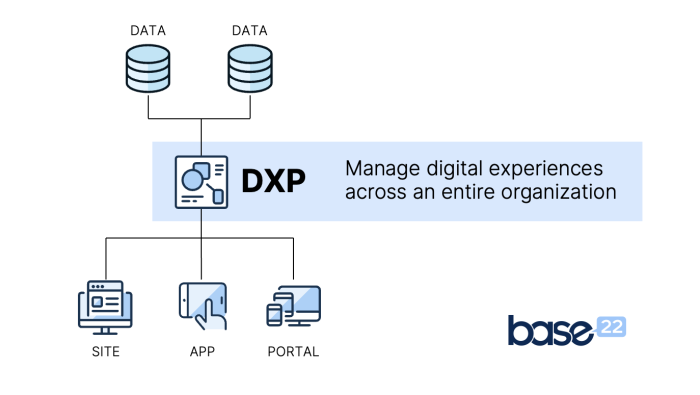 DXPs: Other key features
Because DXPs are primarily oriented toward business, many offer security certifications such as SOC2 and Fedramp out of the box. They also provide robust tools such as disaster recovery, performance autoscaling, and high-availability models for implementations that offer critical solutions to ensure stability, such as banks and insurance companies.
There are proprietary and open-source DXPs. The latter can be a community-driven project, but the software artifacts that are ultimately deployed typically pass a series of quality validations in performance, usability, and infosec.
While PaaS and SaaS models manage the hard work of maintaining a platform, most DXPs models require companies to have a dedicated team or an experienced partner like Base22 to maintain and support a digital platform and its implemented solutions. Like a brick-and-mortar store, companies must ensure everything is in order, the platform is updated, and all integrations and connections are up and running.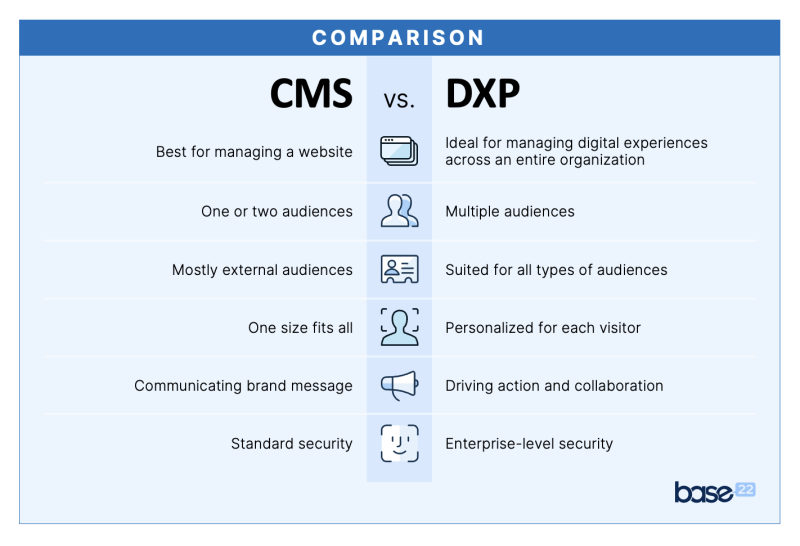 What is a CMS – Content Management System  
A Content Management System (CMS) is a specialized software that offers functionality to edit, manage, and publish content through a digital channel such as a website. CMSs have a long and rich history, with over 20 years of development, with brands like WordPress and Drupal being the most recognized and popular ones.
They are relatively easy to use for non-technical users, making them one of the most popular types of software for content management according to BuildWith. Because CMS and blogging were one of the earliest forms of social media, their features and controls are user-centric and easy to understand, follow and tweak by a regular user with no development experience. They are either low-code or no-code. Any specific hosting configuration, custom development, or even design project, would require some level of technical support.
CMS Key Features
Some of the key features of a CMS include:
user access management
page builders
themes and templates
widgets and reusable components
dashboards
contact forms
document version control
CMS leaders include WordPress, Drupal, Strapi, Contentful, and Hubspot CMS.
CMSs Pricing model
Unlike a DXP, there are plenty of CMS options that are free. Both WordPress and Drupal, for example, offer their standard software free of cost. Companies and businesses can install and implement solutions based on this software without any major cost, which makes it ideal for starting and growing businesses.
Like DXPs, multiple options of CMS also provide Cloud hosting and support. WordPress.com enterprise version and Hubspot CMS are some examples on the higher side of pricing, reaching 25k per year and more.
Additional costs to consider include domains, shared or dedicated hosting, support, third-party add-ons or plugins, email providers, and specific functionality like payments.
CMSs: Other features
Many of these CMS leaders are open source and have strong communities that help to push development and software improvements. They usually have extensive knowledge bases to support your efforts. Through plugins and add-ons, most CMS installations can quickly add new functionality, such as eCommerce, form management, and even rich analytics. If you think of a feature, it probably has already been developed by someone.
Unlike DXPs, CMSs don't offer enterprise-level security OOTB, but it can be improved with third-party add-ons. Many of them already offer MFA, for example. They also have extensive knowledge bases for users that want to make adjustments or modifications to the software or its extended functionality.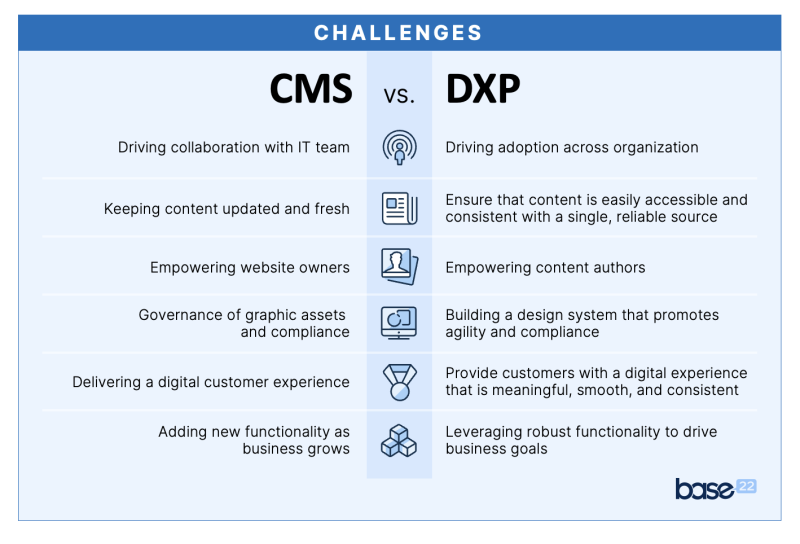 CMS vs DXP: Which one is better for your business? Guiding questions
Now that we have covered the basics, let's review some guiding questions that can help you understand how CMS and DXP compare in supporting your company. These guiding questions are for general reference only. Keep in mind that we always recommended to have an experienced partner like Base22 to support your roadmap efforts, choose the best solution for your business model, and help you to make the most of it.
Are you managing a website or multiple channels?
CMSs were born to service websites that regularly published and managed new content; it's their specialty. However, if your company or team is planning to orchestrate content in multiple channels, such as a website, a portal, and a mobile application, DXP might be a better fit for your business outcomes.
One audience or multiple audiences?
Audiences are key for shedding light on the differences between CMS vs DXP. If your business needs include catering content to multiple audiences, internal or external, or collaborating with an important stakeholder, DXP has robust functionality and tools that can support you when targeting content, applications, or campaigns. If your current efforts are more direct, such as engaging one specific audience through a website, you may want to consider a CMS for your digital channel.
Are your audiences internal or external?
One of the strong suits of DXPs is supporting both public websites and authenticated portals. As employee experience has become more important with the rise of remote work, the efforts around employee communication and internal channels have increased in the last years. According to Statista, the average spend in Content Management Systems for an employee is expected to increase 67% from 2016 to 2026, and will continue to grow after.
With the right implementation, you can manage multiple channels both public and closed—such as website, a portal, a mobile app—from a single platform, leveraging headless functionality.
If your business efforts are more direct and focused on the external side of communications, a CMS may be a better fit.
in the average spend in Content Management Systems for an employee is expected from 2016 to 2026, and will continue to grow after. — Statista
How important is personalization for your business?
DXPs are the kings of digital experience personalization. DXPs can help you deliver different content to different audiences by leveraging user attributes such as location, role, seniority, and department. With a strong Information Architecture approach, you can orchestrate multiple digital experiences that support your user's journey. For example, banks have multiple external audiences (such as individuals, organizations, investors, etc) and a personalized digital experience allows them to showcase specific products and updates that match these audiences depending on their user attributes.
Is your goal to communicate a brand message or drive action?
Often marketing sites focus on one call to action and one specific campaign at a time to drive new customers. A CMS can support a direct, yet impactful message driven by a powerful campaign. On the other hand, a business platform with a DXP helps large audiences like citizens, workforces, and clients to do their daily tasks, support their customer or employee experience, and communicate multiple external and internal campaigns at the same time.
We have discussed this topic before in this blog—the "knowing vs. doing" concept is really helpful in exposing the innate differences between a CMS and a DXP. Modern digital experiences include all sorts of interactivity, from interactive videos to forms, surveys, account management, and payments. Creating a deep, powerful relationship with a user is one of the core benefits of a DXP: providing a well-rounded digital experience. CMS can provide similar capabilities after integrating plugins or third-party add-ons such as payments and eCommerce. Still, their main objective is more tied to one-way communication, like driving a marketing campaign or providing information about a specific upcoming service.
Is systems integration essential for your channel?
Integrating data and information from sources such as ERPs and CRMs are critical to creating rich digital experiences that drive action. For example, developing a customer site that displays a form for complaints and collecting and keeping track of user contact data, number of tickets, and feedback integrating with a CRM.
If your digital channel needs to provide data from heterogeneous sources, DXP's integration capabilities can be a strong foundation for your efforts. While integrations with CMSs are possible, the DXP architecture is OOTB-ready to work with microservices and APIs and connect with your digital environment no matter the complexity.
Do you need your digital channel to be always available and have extra support?
Some organizations need to be available 24/7—for example, insurance companies. Accidents and claims happen all the time, at any given moment. They can have seasonal peaks, such as spring break or the holiday season, which makes their beneficiary claim portals particularly vulnerable to high traffic and lots of interaction. For this type of business needs, DXP offers high-availability features, autoscaling for traffic peaks, and robust management tools to help you manage your platform. A CMS may offer similar features under a Cloud-managed model but with less performance analytics or control for user admins.
Is your digital channel for an effort or an organization?
Scoping your channel's focus also helps visualize which way to go. If your digital channel focuses on an event or a campaign, a website with a CMS is enough. On the other hand, if you plan to deploy channels to support multiple processes from an organization and touchpoints with multiple departments and owners, the DXP architecture and approach can make your life easier. Currently, DXPs are the recommended software for employee portals and enterprise channels.
This may also be an important consideration for future plans. If you expect your efforts to grow quickly to need support for multiple processes or channels, you can save time and expenses in the long run by choosing an option that has the capability to scale with you.
CMS vs. DXP: Which one should you pick?
When it comes to managing content and experiences, the existing offering is vast. Unsurprisingly, many companies are considering growing their digital channels with a DXP that can provide them with richer functionality and automation.
According to Grand View Research, the Digital Experience Platform market is expected to reach 30.31 billion USD in less than 10 years. Retail and Banking and Financial are the segments with the top revenue share; the expectation is that they will continue to grow with the market. The reason is clear: digital customer experience, customer satisfaction, and overall loyalty are critical for these segments, and DXPs offer tools and functionality to support their efforts.
Like any new initiative, every effort needs its business case. A standard Content Management System is a better fit for marketing campaigns in certain industries and organizations with evolving digital processes or that only drive external campaigns.
But that's only from the feature standpoint. CMS may offer performance limitations when it comes to growing and scaling large repositories of content—hundreds of thousands of pieces— and having a strong Information Architecture to help you manage it. On the other hand, while CMS is relatively intuitive and easy to control, DXPs often face unique challenges, such as its learning curve and the challenges of driving adoption across an organization.
Often, growing and large organizations go the DXP route, especially if they are considering exploring new sources of revenue with their online business. While it may take more effort and planning to tailor and implement in the first stages, a Digital Experience Platform is a stable and reliable solution to strengthen your company's position through digital channels.
is what the Digital Experience Platform market is expected to reach in less than 10 years, according to Grand View Research. 
Bottomline
Investing in your content is no longer about what's available in the market but how you want to shape your efforts for your marketing, operations, and revenue efforts—that's the principle behind Digital-First companies.
No matter your decision or flavor of technology stack, make sure you have a partner to support you in your Digital Transformation projects. At Base22, we have portals and platform experts who can help you at any stage of your journey, avoiding costly pitfalls. Our platform accelerators can support your business continuity needs and save you from investing resources and efforts in long development cycles and implementation. Drop us a line to learn how our proven Agile Digital Transformation approach can drive your company to grow and scale.