With technology's rapid advancement and pervasive influence in our lives, it is not surprising that businesses are increasingly adopting digital self-serve in their websites, portals, and mobile apps. Digital self-service enhances customer experience, streamlines processes, and improves efficiency, and it has become a key feature of modern digital experiences for customers, employees, and partners.
That said, only 35% of consumers are satisfied with customer experience (CX) solutions. Employees, too, share a similar sentiment, wanting more digital self-service options to manage their information without depending on HR.
Digital self-service comes from a key principle of Service Design: removing friction from recurring processes where a user wants to flow through the steps and be direct. Think how nobody wants to be asked 30 questions before entering a concert, or nobody likes waiting in line for over 10 minutes to pay for groceries. Likewise, there are many digital processes where users want to get what they want quickly and achieve their goals, such as making a payment or scheduling an appointment.
Flowing through a process without obstacles gives the user behavioral delight, in terms of Nielsen Norman. In addition to delivering brand value and a pleasant visual experience, digital self-service empowers users and gives them autonomy when interacting with portals, websites, mobile apps, and applications.
With this in mind, this article will explore the various use cases and the impact of implementing digital self-service in diverse areas of business operations.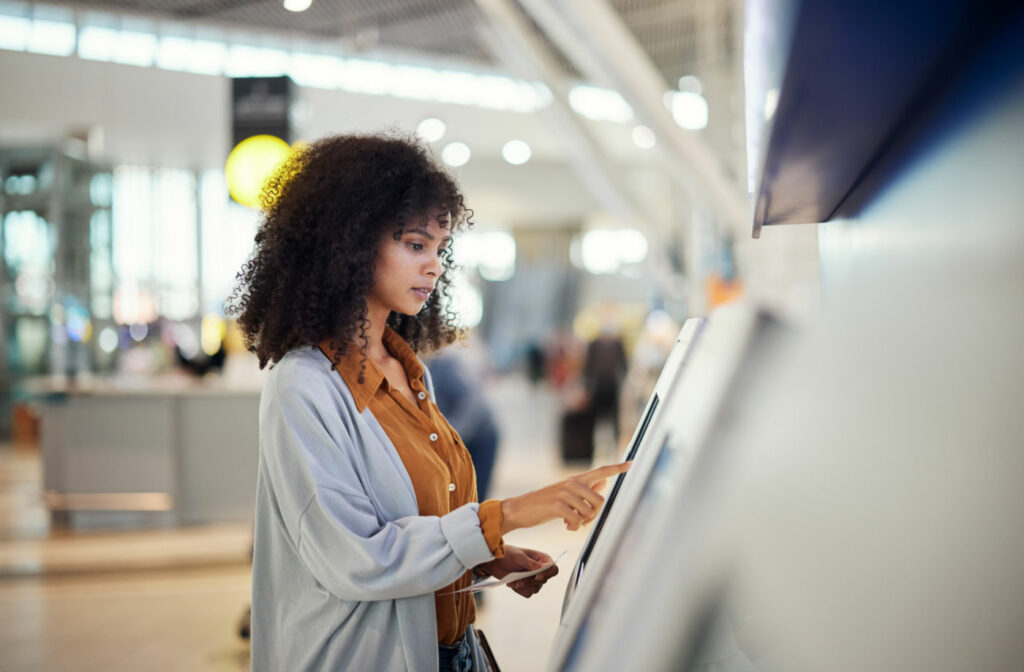 What Exactly is Digital Self-Service?
Before we delve into the specifics, let's define what we mean by digital self-serve. 
Simply put, it refers to the use of digital technology to empower customers, employees, or partners to perform various tasks independently, without human interaction or assistance.
This can take different forms, such as automated processes in online portals, well-designed user journeys, transactions, chatbots, mobile apps, and knowledge bases. By providing customers with a range of self-service options, businesses can reduce wait times, increase convenience, and improve satisfaction levels.
There are four groups of use cases for digital self-serve, depending on what the user is trying to achieve: account administration, transactions and payments, customer support, and personalization. We'll review each one below.
Four Types of Use Cases of Digital Self-Service
1. Account Administration
One of the main areas where digital self-service can have a significant impact is account administration. Modern organizations from every industry often offer websites, portals, or mobile apps to sell products or offer services where customers and clients can create accounts. Once they do, they want to manage their accounts easily and conveniently, whether updating personal information, viewing past transactions, or checking billing statements.
Indeed, customers are increasingly looking for self-service options that allow them to take control of their accounts. And businesses are responding. However, their efforts are not always effective.
Gartner reports that enterprises often create self-service resources that confuse customers with excessive information, failing to solve their problems quickly. As a result, customers resort to live channels like phone support, which is expensive for the business.
A good example is a password reset process. If a user needs to request a password reset and wait for an agent's response, it is very likely that they will be frustrated and associate the experience with a negative feeling about your brand.
Service leaders have found that efficient self-service account management solutions could resolve 20% to 40% of live customer support volume. In our experience, a well-designed portal can reduce over 85% of password reset calls.
Efficient self-service transactions resolve users' needs with simplified user journeys, intuitive UI/UX, and exposing the right data/content from digital services such as operational software. Customer experience starts at basic touchpoints, so it is important to get digital self-service for account administration right. Ultimately, it's a win-win for both businesses and customers. Customers are able to manage their accounts at any time and quickly move into engaging with products and services. On the other hand, organizations can slash their overheads and free resources for critical business areas.
Digital Self-service Use Cases: Account Administration
ID Creation
Password reset
Identity proofing
Updating contact information
Updating payment and billing information
See payment or transaction history
Access reports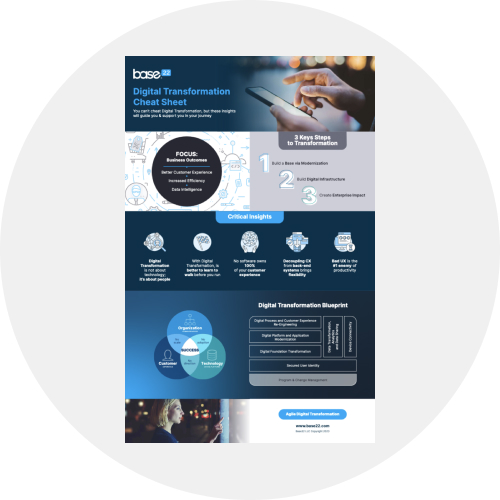 Digital Transformation Cheat Sheet
Dive into our Digital Transformation insights and learnings—all in one page.
Free Download
2. Transactions and Payments
Digital self-service offers significant benefits in transactions and payments, especially with the rise of e-commerce and online transactions. Customers expect to be able to complete purchases, bill payments, order food delivery, and other transactions quickly and efficiently on the web and in mobile apps.
Explicitly, mobile payment apps are a great example of digital self-service in action. These apps allow customers to pay for goods and services with just a few taps on their smartphone or tablet. They can also store payment information, making it easy for customers to make repeat purchases without entering their payment details each time. The rise of features such as "One-click payment" reflects how easy it is for a user to engage in a digital experience with a brand that they already trust.
Recurring billing systems are another self-service option that benefits businesses and customers. Statistically, 85% of consumers pay recurring monthly bills digitally. This way, they can stay on top of the payments while companies can improve their cash flow and reduce the risk of late payments.
The secret behind transactions and payments is removing obstacles between your audiences and your business—allowing a user to buy or purchase when they want and how they want. By all means, digital self-service for transactions and payments enhances business efficiency, drives revenue, and provides customers with a safer and more convenient experience.
Digital Self-service Use Cases: Transactions and Payments
Purchasing products and e-Commerce (Retail, Manufacturing)
Ordering food delivery (Food Service)
Subscribing to plans (Hospitality, Entertainment, Healthcare)
Joining a club or registering to attend an event (Higher Ed)
B2B product order creation (Manufacturing, B2B)
Make a tuition payment (Higher Education)
Make a premium or a medical payment (Insurance)
Buy or renew insurance policies (Insurance)
Purchasing tickets (Entertainment, Travel)
Apply/enroll for coverage (Insurance)
pay recurring monthly bills digitally
3. Customer Support
Customer support is an area where digital self-serve can significantly impact both customers and businesses. Usually, when talking about customer support, many think of self-service software such as chatbots, knowledge bases, and FAQ pages. However, it goes beyond that.
Robust digital experiences offer the user the ability to request support, follow-up on issues, and solve specific problems. But it also means providing the key data and content at the right time to reduce requests.
For example, the ability to file an insurance claim without relying on an agent. Or scheduling an appointment to review a situation—without waiting to talk to someone to find an available time. Although contacting support via phone or email was commonplace a decade ago, this is no longer the case today.
In the current era, customers, particularly the younger demographic, are considered digital natives with a natural inclination towards technology and are accustomed to autonomously resolving their queries. A study by Tidio found that 62% of consumers would prefer to use a bot rather than wait for a human agent to become available.
Correspondingly, the shift towards self-service software is a positive trend for businesses. It offers the opportunity to streamline routine customer service tasks such as order tracking, returns processing, and warranty claims through the use of automation tools. Owing to the growing popularity of self-service, customer service agents can now focus on addressing more complex issues and providing more personalized support to customers in need, as we will see in the next section.
Digital Self-service Use Cases: Customer Support
Filing a claim (Insurance)
Understanding your insurance coverage (Insurance)
Resolving issues with a Knowledge Base (almost any industry)
Scheduling an appointment (Healthcare, Financial Services, Insurance, Higher Ed)
Checking status of orders, including B2B (Manufacturing)
Providing product information and manuals (Manufacturing, Retail)
would prefer to use a bot rather than wait for a human agent to become available. — Tidio
4. Personalization
Personalization helps companies win on multiple fronts. If you seek to stand out in a crowded market and build stronger customer relationships, personalization is key. If you want to attract and retain top talent, personalization will make them feel at home. And to do so, you need digital self-service.
Digital self-service can play a significant role by allowing your user to create a personalized experience. A common use of personalization is "upgrading" or "making adjustments" to something a user has purchased. For example, when you book a flight, users can now choose to upgrade, select their seat, add extra luggage, add transportation, and make their trip personalized to their needs. All this, without relying on an agent.
In a similar manner, organizations can allow employees to personalize their experience and preferences by interacting with digital tools. How often do they want to receive notifications from an employee portal, and if they want them by email, alerts, or push notifications?
From this perspective, self-service for personalization strongly connects with upselling and cross-selling. But instead of having a large team dedicated to it, your digital channels and platforms do the job, which reduces the cost to sell and also increases the reach of specific offerings.
Organizations can gather customer preferences and behavior data and use that information to provide additional self-service features. The key question is: how easy is it for your user to create a stronger connection with your business?
Digital Self-service Use Cases: Personalization
Subscribe or unsubscribe to updates and notifications
Choose a contact method (almost any industry)
Scheduling a course (Higher Ed)
See academic calendar (Higher Ed)
Request special requirements for a stay or a flight (Travel, Entertainment)
Find a doctor (Insurance)
Compare plans & prices (Insurance)
Quote custom products or adjustments (Manufacturing, Wholesale)
Schedule a delivery or choose a new delivery time (Logistics)
Request credit limit increase (Banking and Financial)
Request additional credit cards (Banking and Financial)
Authorize someone to receive a delivery (Retail, Logistics, Manufacturing)
Impact of Implementing Digital Self-Service
Implementing digital self-serve in various areas of business operations can significantly impact efficiency, customer and employee experience, and bottom-line results. But more importantly, it will drive your digital experiences toward actions and a tangible connection with your audiences.
By providing self-service features, you are leveraging the energy and interests of your users to drive more business. It gives your users better control, personalization, and a clear transactional relationship built on trust and reliability.
At the same time, by automating these processes, you are lowering the cost per transaction, which will generate better margins. You will also be freeing resources to focus on what's important for your business—in other words, where users need attention and want added value.
If you haven't implemented self-service across your digital channels, it's time to act. At Base22, we have helped many organizations and businesses of all sizes to implement agile digital transformation that delivers monumental ROI. Don't wait any longer—schedule a call with our team.
Automate & Enhance CX with a Tailored Portal
With a tailored business portal, you can automate your business & enable self-service processes while meeting enterprise-level requirements.
Learn more