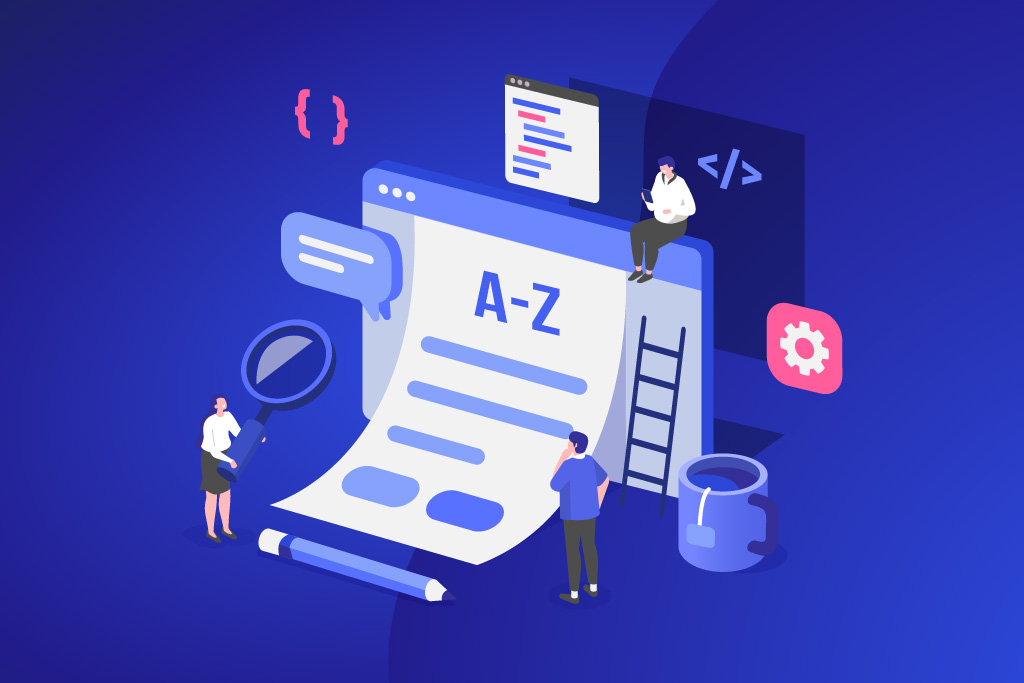 The world is evolving at a fast rate. The way we do business is constantly changing—and so does IT terms and concepts in general. There are millions of people that are always available online. Whether you are selling or buying, everyone can find solutions through the Internet.
Digital services are game changers that came and redefined business as we know it. Netflix came to redefine the entertainment industry with streaming services; Uber is a huge innovator in transportation, and Airbnb established new ways to find accommodation while traveling. Technology is growing in ways we have imagined. It doesn't matter what type of business you are doing; companies must go digital to keep thriving.
Implementing a digital transformation at your company requires substantial effort from every department within the company. Of course, it can get overwhelming. So, we have prepared a list of terms that will help you to understand essential concepts related to digital transformation and start planning the next steps for your company.
Websites: A collection of web content organized in pages and are identified by a domain name and hosted on a web server. Websites are dedicated to a particular purpose, like business, education, commerce, social networking, and entertainment.
The use of websites helps businesses acquire new customers, improve communication with key stakeholders, or sell goods and services. To make this possible, you must create valuable web content for your audience. Valuable content comes in the form of direct and informative videos, blog posts, images, and much more.
Web Content: Everything that lives on your website, including images, documents, data, audio, video, files, and more. These resources can be used dynamically across your pages in a presentation layer where your data is transformed into graphs, tables, and other formats. The content is part of the experience a user has with your website while using Hypertext to link to related articles to secure the interest of your audience.
Content Management Systems (CMS): Applications used to manage web content. Authors and contributors can create, edit, and publish content, which is stored in a database and later displayed in a presentation layer. A CMS is easy to use. They allow non-technical people to create and manage content without programming knowledge.
Portal: A robustly designed website that integrates systems and tools from various sources. Each section of the portal is designed to display a piece of information. These are known as portlets. One main function of a portal is that users can configure the portlets to display dashboards or other relevant information needed to fulfill their role in the company.
Intranet: It is a private portal restricted to the employees of an organization. It can also be accessed by customers, suppliers, or other approved individuals. An intranet is used by organizations to improve internal communication among employees and acts as the main channel for a digital company's workspace. Employees may find helpful resources needed to satisfy their roles in the company, such as policies, procedures, manuals, or HR-related documentation.
E-commerce: The use of the internet to sell or buy goods and services through a digital platform or app. Money and data are transferred to execute these transactions. It has enabled companies to scale sales in a way that was not possible with traditional offline retail. Nowadays, e-commerce has been positioned as a quality standard to reach more customers and offer another choice to engage with them.
Internet of Things (IoT): It is a network formed by physical objects that integrate technologies to exchange data with other services and systems over the internet. There are multiple applications in transportation, building, home automation, wearable technology, communications, healthcare, manufacturing, agriculture, and much more.
Information Architecture (IA): A house needs a good architect to build the foundation to support the structure properly. The same is applied to Information Technology. Information Architects design the structure of the information for complex environments such as library systems and databases used for better navigation through a site, finding content easily, and creating effective knowledge bases. IA turns a product competitive because the design helps users to perform tasks with the least effort possible while creating products with pleasant user experiences.
User interface (UI): The way a user interacts with an application or a website. Users can access a website or application with their computer or mobile device. Everything they see, click, or listen to inside the software is part of the interface the user interacts with.
User experience (UX): The valuable aspects of the user interface and how the user feels about using the website or application. In other words, UX is the perception of the user in terms of utility, ease of use, and efficiency. The experience must adapt dynamically over time due to changes in the usage of the system.
User-Centered Design (UCD): A design process where the user's needs are taken into consideration during each phase of the design. The process includes investigation methods like surveys, interviews, and brainstorming, to collect and understand user needs.
The result of this process is the definition of the structured user experience for the product.
Accessibility: Digital solutions must take into consideration the user as the center of the design. In the end, it is the user who uses the solution. Accessibility is a standard for web development that allows any user to interact properly with a website, portal, or digital tool. There might be users with visual, auditory, motor, or cognitive disabilities. There might be other situational limitations such as mobile devices, bad internet connections, or a generational gap among the employees that use the technology. In any of these cases, accessibility makes it possible to deliver a digital solution to a broader audience.
Self-service: Activities where the user performs actions without the help or aid of company staff. In other words, a Company offers tools and information to the users so they can solve basic problems or requests and thus can have a better experience with the product or service. A self-service portal helps you reduce customer service costs, offer 24-hour customer support, reduce the number of support tickets, leverage personalized information, grow social engagement, and enhance customer acquisition.
Digital Transformation (DT/DX): The process of replacing non-digital procedures or older technology with newer technology and, most importantly, a digital mindset. Services or Businesses are reengineered with a digital-first process approach that enables the company to be more efficient, innovative, and creative.
Digital transformation allows a business to adapt to the changing market requirements in terms of improving processes, culture, and customer experience.
Digital Experience Platform (DXP): Gartner describes a Digital Experience Platform as "an integrated set of core technologies that support the composition, management, delivery, and optimization of contextualized digital experiences." A DXP is the enterprise solution to make your portal a reality. This software allows Digital Transformation to happen and provides a better user experience.
This glossary can help you with a quick exploration of the topic of Digital Transformation. Factors like the size of the company, the type of industry, or the user experience intended to implement can make your project more complex. We at Base22 want to help you succeed in your digital transformation. That is why we are partners with Liferay, a Gartner's Magic Quadrant leader for Digital Experience Platforms (DXP) for the last 10 years.
Our team is made up of multidisciplinary professionals with deep experience in different areas like design, information architecture, business analysis, development, quality assurance, and support, and thus we are adept at supplying successful implementations.
Reach us to find more information about digital transformation. One of our consultants will be glad to assist you during your transformation process.