Is your company ready to evolve into a digitally connected organization?
Organizations today are looking for technological solutions that can reduce payment processing, time constraints, and business costs. At the same time, they need to strengthen compliance, improve services for their customers, and generate a deeper integration of information shared by different sources within the organization.
This wishlist of technological innovation leads to implementing systems that conduct digital transactions between various industries through EDI forms, which contain the specific information for running the business. In short, solving these connectivity problems is easy with EDI.
So what is EDI?
Electronic Data Interchange (EDI) is the exchange of business data from one computer to another using a public standard format.
Business-to-business solutions integrate data between two or more different companies or organizations, called trading partners, using interoperability standards like XML (Extensible Markup Language) or EDI.
Trading Partners is a way to conduct Direct EDI or point-to-point e-business transactions by designating a host partner and a remote partner who connect through an agreed-upon communication protocol.
With this kind of interaction, any company of any industry can communicate with one another; it just needs an enterprise implementation solution designed according to that company's specific needs.
EDI Solution in the Healthcare Industry
According to Sudhir Kulkarni, President of Digital, Persistent Systems, "The most crucial task facing healthcare technology professionals is the integration of applications and data among the diverse players in the healthcare ecosystem"; the players in a healthcare environment include doctors, patients, hospitals, insurers, employers, device makers, pharmaceutical companies.
The diagram below describes the integration of all the healthcare players; all the data has to be processed and exposed through EDI forms to be properly shared.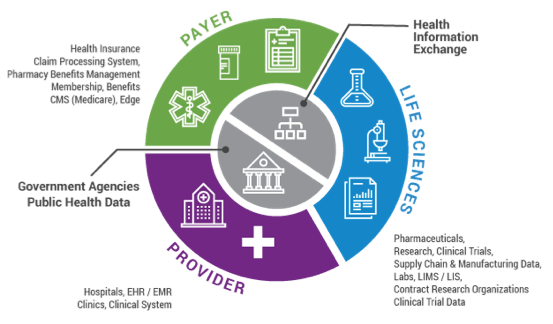 Note: For this particular scenario within the Healthcare industry, an 837 EDI form of exchange data is used. It mainly includes the information of the provider, payer, and the medical institution. EDI solutions are based on establishing trading partnerships for exchanging information and then processing the particular EDI form through mappings and functions to obtain the desired format according to the requirements.
EDI helps the healthcare industry with the integration and, ultimately, sharing of large amounts of information. This has far-reaching implications related to patient care, speed of healthcare services, and healthcare professional efficiencies, just to name a few. Companies from every industry can benefit in incredible ways through the implementation of EDI. This benefit translates to true business connectivity and a level of openness within an organization that has been difficult to attain before.
What if my company wants to implement EDI solutions?
The first step in this path is connecting with an organization that understands and has experience with solutions like EDI. At Base22, we pride ourselves on understanding and deploying solutions that provide value to our customers. EDI is one of those value-building solutions; specifically, with Dell Boomi, we tackle challenges independent of industry.
If you would like more information on Dell Boomi and how Base22 can help your organization with EDI, please contact us here.