Banks continue to see more consumer engagement via technology than they do within their physical branches. The digital transformation set within the world is making the banking industry faster, more data-driven, and almost entirely wireless. Transformation, in the digital sense, describes the change that businesses undergo from old, outdated processes into more efficient but digitized solutions. Keeping up with the business and public consumer will be difficult without advanced digital technology helping you.
Your work in creating a better data infrastructure, generating relevant analytics, and relying on digital technology brings your agency closer to our global infrastructure.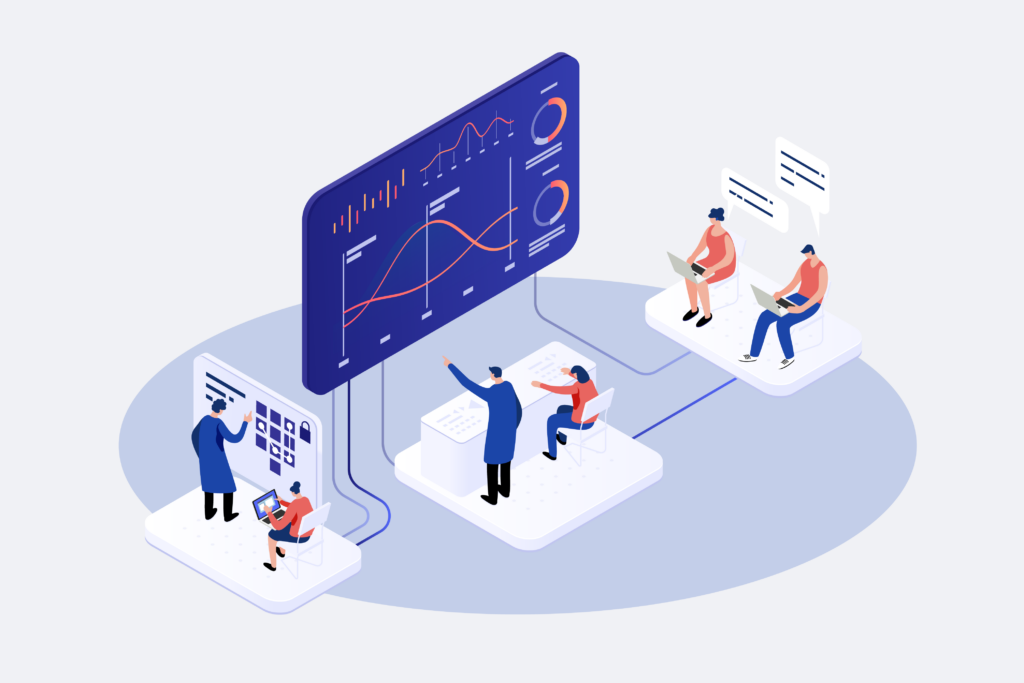 Thinking of Digital First
The simplest way to understand what digital transformation entails is to look at the way technology is involved in our lives. The idea of being paperless struck a few nerves in the early '90s. Today, placing all of their documents into a digital infrastructure is the best option that many banks see for themselves. From the perspective of a bank, consider how mobile and wireless technologies can be used to make business processes faster, easier, and more accessible. It takes a broad transformation to achieve these things.
Good Data, Along With Automation
At the core of many transformation campaigns, major banks are building their new digital infrastructures on top of automation. Data is always a key component of transformation, but how that data is used brings automation into the equation. Automation, being so common that you might overlook it, causes a computer to take predetermined steps after first confirming new data or a person's actions. The key aspects of a complete transformation call for us to keep these three values in mind:
Securing reliable data: Data is popular, so being competitive with your data starts with what you collect. Our digital society endlessly streams data around the globe.
Properly presenting it: It's not the fault of clients when they don't fully understand the data they receive. Encoding, decoding, and interpretation are key factors in communication and transformation, so familiarity with data models and trends is necessary when putting info to good use.
Acting on it quickly: In the same way, that time is money, so is data. Every changing second of today's data society presents a new way of seeing the world. We work to ensure that the right data helps you to take advantage of key opportunities.
New Trends in Semantic Intelligence and Data Modeling
Perspective can enable us to see doom where opportunity is and vice versa. Finance, being a serious form of data, can be a tricky science if your agency can't accurately forecast financial outcomes. Artificial intelligence is among the major trendsetters in transformation, but banks are using AI while retaining their human input. With the help of AI, financial institutions are empowered by predictive analysis. Artificial intelligence can use data models to demonstrate financial decisions or potential outcomes with money.
Coding and the Dynamic Your Business Faces
The promises of Digital Transformation within our banking industry never come to fruition without creating algorithms and writing code. The use of blockchain, which enables banks to make secure, wireless transactions, only establishes a greater need for us to rely on transformation makeovers. Being able to grow alongside a digital society is profitable, but it's a vulnerable concept without security involved. As far as transformation goes in banking, not much will be accomplished without experienced development and coding. 
Business Data Versus the User's Experience
In the spectrum of transformation, the intel we collect in our modern day gives us two ways to look at the work businesses need to do for transformational success. Digital is the foundation, but it puts businesses into a space where each has access to unlimited data. How that information is put to use for business purposes isn't entirely a matter of obtaining it. Agencies that usher in digital transformations use experience when deciding on the value of the data they collect and how it will be used.
The secondary aspect of transformation deals with what public consumers experience. As a modern business, there are digital channels for you to market your brand through, but these channels—by traditional standards—are unconventional. Still, wise financial institutions are keen on developing their internal processes with the help of digital means. Many, however, have overlooked how transformation and digital adaptability is relevant to their consumer relationships as well. Here's a look at the talent digital transformation requires:
Business specialists: In each field of banking, specialists need to be consulted and given authority to align their knowledge to our new digital methods. Our solutions are custom, so who your employees are and how your business works dictate the model we design. We use industry specialists because they understand your financial field.
Interface and graphic designers: The ideas we develop must be made tangible by digital technicians and designers. Enjoying the simple logins and account layouts from banks today shouldn't lead you to overlook the complexity involved. We need computer monitors to ultimately display our transactions and balances. How that data is displayed, where and when are facets under the control of our interface designers.
Developers and coders: Knowing how to turn ideas into functions and processes calls for a keen understanding of code. With our ability to write in both web and computer languages, we empower you to invent new actions for computers to automate. What those actions depend on the service or objective you need to accomplish. From web platforms to mobile apps, we give your institution a spectrum of options.
Writers and marketers: What computers and code can't convey to your leads can, instead, be done by writers or marketers. Computers go only so far in conveying what the human mind possesses. For this reason, we bridge the space between your leads and their monitors through simple, compelling writing. Copywriting, which we use, is a form of writing that's proven to increase sales, retention, and consumer education.
A Change in Processes But a Boost in Engagement
Banks and financial institutions need to think deeply about how their processes and consumer engagement are poised to change. The challenge that many institutions face deals with the processes they currently have, which could still produce results. Through research and brainstorming, transformations can redesign an entire business and how it pursues its leads and final sales. It's true: some agencies only need wireless printers while others are, instead, creating an internal program for employees to work through from scratch.
The complexity of your digital transformation will take these into consideration:
Infrastructure: We determine your infrastructure needs by evaluating your digital strengths and weaknesses. With such a broad spectrum to grow within, agencies undergoing digital transformation can specifically ask about their weaknesses as it relates to the growth of digital. In other words, we help our partners to ask themselves, "What have we missed out on by not going fully digital?"
Cloud computing: Cloud computing not only enables your agency to work remotely, but it also allows you to maintain a private database. The foundation of your apps, websites, and workstations is, essentially, the memory that these concepts work on. Cloud computing gives you the RAM, so to speak, for your new digital appliances to function on, being accessible to your business team only. Extending the potential of cloud computing to the consumer, however, is also effective via apps and web accounts.
Security services: Finance is the most vulnerable sector of society as it relates to the internet. Without understanding and applying algorithms like blockchain, financial institutions won't be able to complete their transformation in the broader sense. With a perfect relationship between artificial intelligence and blockchain, we have the greatest confidence in our clients' safety and security.
Let Base22 Lead Your Ideal Transformation
Bold action is what brings new inventions and methods into our world each day. Keeping up with these changes doesn't require you to watch the public markets at all times. Traditional banks, however, will need to build the foundation that makes everything else in digital work. Connecting to and expanding with new digital innovations is easier once you have fundamental pieces in place.
Now is the time to improve the consumer experience, limit your liability, and ready your institution for greater profitability with less effort or resources. Contact Base22 today, and let our team give you the details you need for a lucrative transformation in digital.