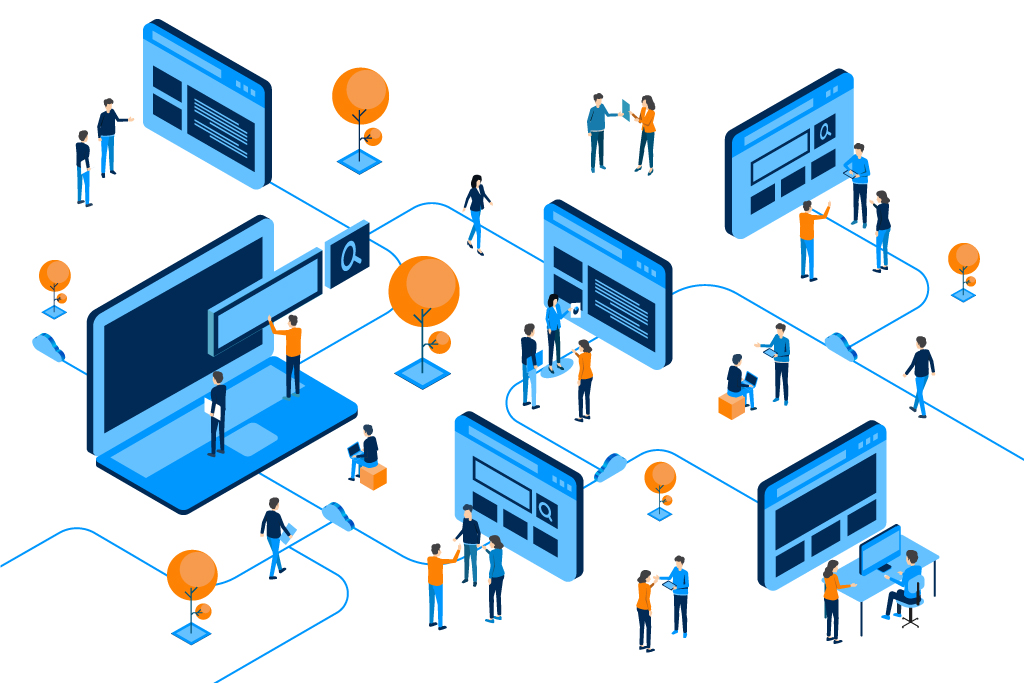 One of the biggest misconceptions about digital workplaces is that they are enterprise social networks. It is probably related to the rise of out-of-the-box solutions that provide internal communications channels to engage with the workforce and the management team. Offerings such as Slack, Microsoft Teams, and Workplace from Facebook highlight their instant messaging and video call functionalities as the main way to connect with your workforce.
These functionalities are essential for many businesses today, and for sure, we need them to run properly, given the challenges of the Covid-19 pandemic. But building a digital workplace goes beyond simply communicating. Starting with the core objective: digital workplaces focus on enabling your company to manage its internal processes through technology to be more productive. They aim to extend your capabilities and allow you to grow as a company. Meanwhile, internal social channels put their energy into boosting engagement, internal reach, and creating connections among peers and colleagues.
The truth is that social media-like OOTB solutions are affordable options to small business and startups that need agility and a single place to communicate. But rarely can an internal social network solve day-to-day business needs. If your business model relies on growth, scaling, and efficiency in processes, you should consider implementing a digital workplace that responds to your specific needs.
We selected some of the reasons why you should consider tailoring a digital workplace to your objectives and goals, especially if you work in a large company or organization:
1. Digital workplaces focus on productivity, not only communication
Talking about something is not the same as doing something. Digital workplaces can integrate applications, systems, data, and dashboards in one single location (like a portal or digital experience platform). What your team needs is to have all the tools they require to do their job and then be able to do it right away. From collecting and analyzing information from the field to designing a new campaign, a digital workplace is a place you should go to start doing your thing every single day. Yes, communication is still important! But delivering the tools, the understanding, and the guidelines to operate efficiently is what really will bring your company success.
2. They store your company memory (and create new knowledge too)
More than ever, it's important to be able to share knowledge with other members of the team and be able to connect with them. But doing it through 1-on-1s, Call Centers, help desks, endless chats and unread emails would be inefficient in the long term. Imagine you need to search for the latest brand guidelines for your business: where should you be able to find this resource? Where do you start your search? Who is the owner of keeping it updated? Who should you go to if you need questions? Your key resources, pieces of content, reports, and media (among other docs) need to be kept and stored in an orderly and well-managed dedicated space. And paving the way, so your team has access to your company knowledge ("company memory") in an effortless way is the right way to go.
3. They can integrate business systems and platforms and create new knowledge
Most social networks deal with users, tons of messages, tagging, and multimedia. Digital workplaces deal with applications, systems, portals, software, and user management at a company level. With that in mind, let's make an important distinction: storing is not the same as using information. By bringing processes, data, and insights together in one single location, you can create knowledge with other departments or business units. That's the ultimate level of systems integration: making better decisions, enabling the convergence of knowledge from your different SMEs and departments, and becoming a more responsive organization. If your different technologies are not integrated and talking to each other, you are probably getting only half of the insights your team can create.
4. They provide security at an enterprise level
Another interesting characteristic of digital workplaces is security. As a central piece in your technology infrastructure, it can help set security throughout all the solutions used by your company – by consolidating access and permissions; you can manage users, roles, and permissions to specific sets of applications, data, or even specific processes. This helps to better manage which users and groups have access to which systems and applications, adding a new layer of security. Think of traditional models, where connecting to an internal network was enough to have access to an application; in today's connected world, that model may carry vulnerabilities. For large organizations and enterprises, having a zero-trust security model is key to being able to operate fully and in remote locations with all the comfort of being protected.
5. They can engage business partners and clients
Internal social networks tend to focus on the workforce, colleagues, SMEs, and field teams but rarely involve customers and business partners – the latter ones typically have their own separate channels of communication, such as external social channels and newsletters. In contrast, digital workplaces leverage data and information not only for internal audiences but also for external stakeholders: having dedicated portals or collaboration spaces where you and your business partners, dealerships, vendors, or suppliers can work together is probably one of the most useful features of these types of solutions. Think about having an authenticated portal for all your distributors with rich information: brochures, prices, resources, policies, FAQs, videos, forms and surveys, and, of course, notifications and instant messaging for support. This approach in digital workplaces has been achieving slow and steady growth for complex industries with B2B components, such as Manufacturing, Food & Beverages, Insurance, Courier services, and Finance, as well as QSR with the challenges of online delivery and its logistics.
In summary
The "Digital workplace" is a relatively new concept, and there are many ways to approach it. As a firm that has engaged with technology and business for more than 10 years, we can tell you that understanding your needs -and the needs of the people that work with you – is key to defining the type of solution that will fit your company better. There are no mistakes in this field: only unexplored business potential. If you want to talk about how to start tackling your road toward a modern digital workplace, drop us a line.