Las tres claves detrás de una Transformación Digital Rápida y Ágil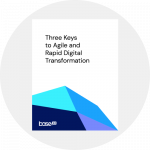 Para las organizaciones en crecimiento, cuidar de la satisfacción del cliente siempre ha sido la base para escalar, lograr recompra, y fomentar órdenes múltiples. En este whitepaper, revisamos cómo las experiencias digitales le dan forma a los canales digitales de nivel empresarial y una estrategia probada para lograr exitosamente una Transformación Digital ágil.
Descarga este whitepaper para conocer: 
Las 10 reglas de las buenas experiencias digitales para los clientes 
Cómo ofrecer una experiencia digital fluida e intuitiva en meses, no en años 
Los componentes principales de las experiencias digitales modernas para organizaciones y empresas grandes
We value your privacy. By submitting this form, you confirm that you agree to the storing and processing of your personal data by Base22 as described in the Base22 
Privacy Policy
. This site is also protected by reCAPTCHA and the Google
Privacy Policy
and
Terms of Service
apply.