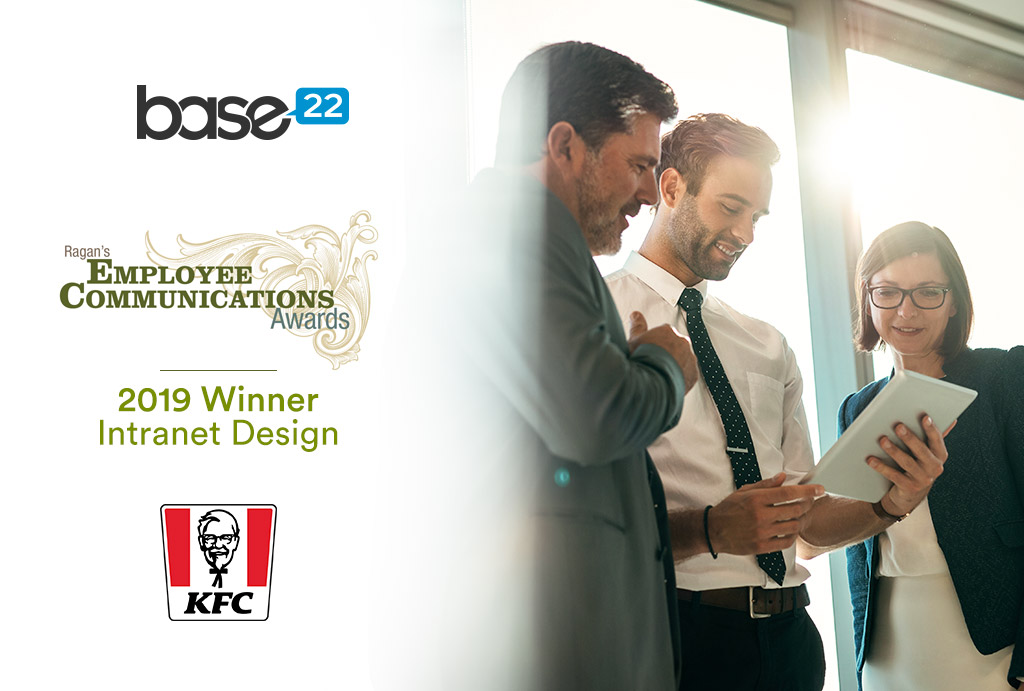 Base22 is excited to share that our project TeamKFC has been announced as the winner of the Intranet Design category of Ragan's 2019 Employee Communications Awards. The winners were announced on Friday, February 28, 2020, at an awards luncheon at the Grand Hyatt in New York City.
The TeamKFC intranet ensures top-to-bottom communication between the KFC corporation and its 4,000+ franchised-owned restaurants in the US. The project is a collaboration with Base22 and part of our long-term partnership.
Ragan's winner entry highlights the role of Information Architecture to set a single source of truth for the company's internal communications and how it helps both KFC employees and associates find meaningful information in an effective way. It reads as follows:
"The redesign that established an information architecture based on the information employees needed—not the department that owned it—has won the top prize in the "Design" category (Intranet division) of Ragan's Employee Communications Awards".
Learn why TeamKFC is the Best Intranet Design winner and more details of the project at the Ragan website. Complete list of winners is available here.
This is the third award for TeamKFC in the past 6 months. It recently won two Gold Marcom Awards for Best Redesign and Best B2B website. You can also read more details about the initial stage of this project in our blog.
If you are interested in TeamKFC, you can read the complete case study in our Projects section.