Modern Digital Workplaces Get Teams Flying
Creating a modern digital workplace is what your business needs to reach new levels of productivity, improve departmental coordination and bolster operations through remote work
Gain Time with Self-service
A digital workplace is a one-stop-shop for productivity. Employees from different departments can manage their own profile page, find vital tools and services in a single place, and reduce requests for HR and management.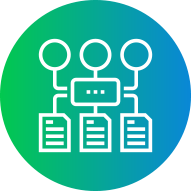 Build Your Knowledge Base
Going big means rethinking your information and resources. Together with our expertise in Information Architecture, we can help you leverage your content — from policies and procedures to videos — and increase findability and efficiency.
Bring Focus and Depth
Build personalized dashboards for each audience of your digital ecosystem, like employees, business partners, collaborators, suppliers and providers. Enhance user experience and deliver your brand's value promise through modern digital technologies.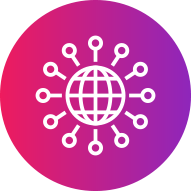 Boost Collaboration
A digital workplace empowers your audiences and turns them into vibrant communities that can communicate and coordinate quickly, create content, and actively engage in the digital environment.
TeamKFC: An Award-winning Environment for Business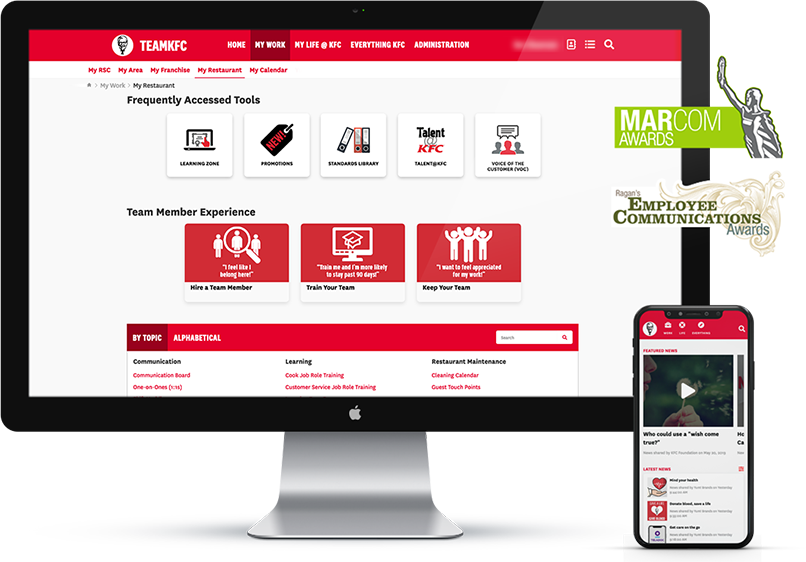 The TeamKFC intranet portal ensures top-to-bottom communication between the KFC corporation and its 4,000+ franchised-owned restaurants in the US. The project is a collaboration with Base22 and part of our long-term partnership: In 2019, a new design was released, reflecting the brand's latest style guidelines with a clean and modern look and feel. The site is visual and intuitive with clear and simplified content organization as well as page structures, using modern digital technologies. Content has been brought out of silos, and findability has been improved substantially. A winner at Marcom's and Ragan's awards, the TeamKFC portal is evidence of a complete digital transformation that can set a vision for the company for many years.
Your Team is Suffering from Disconnection and Disorganization
How much time do you spend trying to take control of your operations? Demanding intensive reporting, aligning mindsets, or reworking procedures so your team can be more efficient? Traditional workplaces carry the burden of unnecessary processes, time-intensive and wastful meetings, and an excess of calls to clarify programs, politics, and new procedures. This is what keeps you and your team from reaching new heights for your company. We can help you create the right environment for productivity!
Base22: Digital Workplaces Solutions for Every Industry
Global excellence meets small firm agility
---
We create efficiency for you company. Our projects follow principles and patterns in their process to save time and resources in order to focus on crucial areas for your business with a steady and dedicated approach. Moreover, our work complies with web accessibility standards (Section 508) & international security protocols.
Cross-industry and transformation experts
---
Our 10+ years of experience in a variety of industries has nurtured our problem-solving abilities, allowing us to offer you the best solutions and digital technologies for business transformation. Combined with the leading Digital Experience Platforms in the industry we provide a broad spectrum of expertise to handle every need.
Business knowledge integrators
---
We are experts in leveraging systems, tools, and resources, so your company increases its productivity. With a custom, efficiently organized digital workplace, gain self-service functionalities, integrate frequently used tools and applications, centralize documentation of common issues and problems, effectively remote work, improve worker mobility, and more.
Contact us
Contact us today to see how we can help your company.
2435 N. Central Express Way, Ste. 880
Richardson, TX, 75080, USA
300 Marconi Blvd, Ste. 205
Columbus, OH, 43215, USA
Prolongación los Soles #200
Torres Martel 3, Piso 3
Colonia Del Valle Oriente
San Pedro Garza García, N.L., 66260, Mexico
Av. Ejército Nacional 769
Torre B, Piso 2
Colonia Granada
Miguel Hidalgo, CDMX, 11520, Mexico